Diversity breeds success, new perspectives for boys soccer team
The GHS boys soccer team is making a name for itself in the Northeastern South Conference, as Head Coach Armando Marnoto's culturally diverse squad represents more than ten different countries.
Full of talented athletes, the team is enjoying the best season the program has had in years. It is contesting for the Northeastern South Conference title, trailing behind Malden, its biggest challenge of the season, and celebrating an early playoff clinch along with the girls varsity team.
Since my freshmen year I've noticed that the team, as well as the Gloucester High School soccer program, has come along way.
The chemistry and trust the team has built has played a big part in our success. We have built trust and friendships throughout the season that would have been difficult to establish otherwise. Since most of us speak different languages- ranging from Italian to Portuguese to Swahili- it has taken time for the players to get to know and get comfortable with one another.
It hasn't been an easy journey, but we have gotten to know one another on a deeper level because of our differences.
Hearing about the lives each player has had, how they ended up in Gloucester, and having to overcome the language and cultural barriers has changed the players' perspectives towards the team and the season. Whether it be on bus rides to away games, at a sketti (team dinner), throughout the school day, or joking around during practice or before games, this has inspired us to play for one another.
Our success has been a team effort. Every player played his part throughout the season, as Armando frequently emphasized the importance of teamwork and team integration.
"We are looking more like a team. Every player has improved so much since the beginning of the season and it's great to see how well they are playing together," said Armando, who tasked his three senior captains with making sure every player is comfortable, enjoying the season, and knowing he has a part to play on this team.
Many of the players have come to appreciate the diversity on the team.
"The diversity has given many of our players a perspective on education, politics, and life that we never thought about," said Captain Chris MacDonald. "It really has opened our eyes to the realities of life and how big this world is."
It's sometimes hard to believe that by some small chance we were able to meet one another through this team. We have kids who not too long ago lived thousands of miles away from each other, and are now experiencing each other's successes and failures alongside each other on the field.
"Playing with people who have the same love for the game as you do makes each game more personal and even more important," said Captain GianLuca Locontro.
For some of our players, soccer is a way of escaping the stress of high school and playing with those who understand one another's difference, and this has changed the way we play for the better.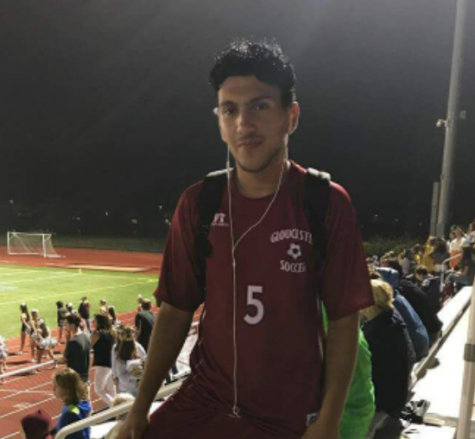 #5- Mohamad "Mo" Alsweidani
Mohamad's story begins in Damascus, Syria.
Mo lived in war stricken country with his mother, father, and two brothers. The country's long lasting war and the hardships of religious persecution began driving refugees out of the troubled country. It wasn't until the government started recruiting all able bodied men and young boys for the Syrian army to counterattack ISIS and the rebel groups that Mo and his family decided to flee to Turkey, since he and his brothers had been drafted to fight.
Mohamad and his family were then able to make their way to Boston through the YMCA, arriving on October 26, 2016. After living in Boston for two weeks, the city's high living costs proved to be too much for his family. It was when he and his family heard about Gloucester's peaceful, beautiful landscape and friendly people that Mo and his family took the chance to move to a less expensive area.
Mohamad has been in Gloucester for a year now and has found his place at GHS, playing varsity soccer for the first time.
The number five midfielder is a versatile player, being able to play defense, offense, and his most common position at midfield. Mohamad has established himself as a team regular and has scored important goals this season that have been key in helping to keep our momentum and confidence. He is an important member of the team with a friendly personality and a presence that's impactful both on and off the field.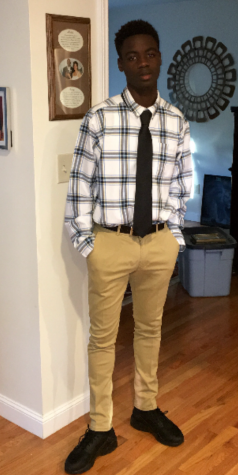 #10- Elijah Elliott
Elijah was born at Boston Medical Hospital in April, 2001. A few months later, he moved to Trinidad Tobago in the southern Caribbean along with his mother, grandmother, and baby sister.
Trinidad has been dealing with violence and gangs in communities across the country for years, and the risks of living in the country seemed to overwhelm Elijah's family. Realizing the dangers of living there, it was decided that Elijah would be sent back to the U.S. in hopes that he would get a better education and increase his opportunity of going to college.
On August 22, 2016 he arrived in the U.S. and he has been living with his uncle, who was already settled in Gloucester. This is Elijah's second season on the boys varsity team. Elijah plays as a midfielder and striker; his versatility making him a dangerous player. He has established himself as a starter and his lighthearted personality keeps team spirits up.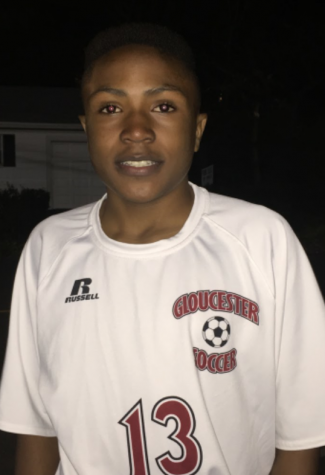 #13- Robert Mugabe
Robert was born in Hoima, a municipal town on the western region of Uganda.
He lived in Hoima for 10 years with his mother, father, six brothers and three sisters.  It wasn't until 2014 that Robert's family were able to move to the United States, hoping for a better education and a fresh start in the unfamiliar country. The family first moved to Lynn, MA, living in the diverse city for two years before moving to Gloucester. He is now living with his three brothers, mother, father and two cousins.
Robert, a sophomore at GHS, is enjoying his first season playing for the Fishermen and has worked hard to earn a spot on the varsity team.
"Playing for the team is great, I love it! It is a lot harder than I thought it would be but coach is great and it's fun to be on the team," said Robert.
The varsity team has proved to be a challenge, but Robert has worked hard to earn his teammates' respect as a sophomore.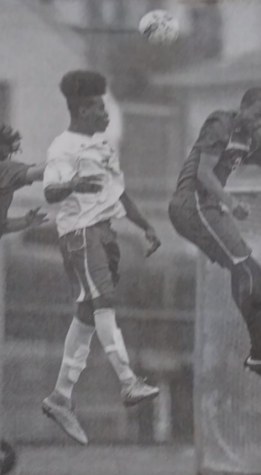 #17 Anthony Suazo
Anthony was born on August 31, 2000 in San Pedro Sula, Honduras where he lived with his mother, dog and older sister. His father lived in the US where he could work to support the family.
After 16 years Honduras' violence forced Anthony's family to send him to live with his father in the United States. He moved in with his father in downtown Gloucester in December 2016, and enrolled at GHS. He is currently a sophomore, playing his first season for the Fishermen as an attacking midfielder.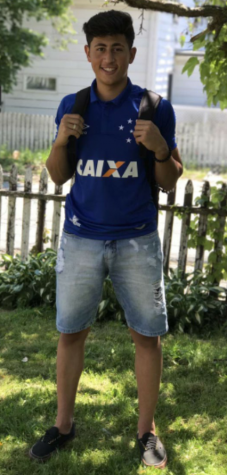 #8- Kevin De Oliveira
The Brazilian striker was born in Beverly, Massachusetts when his family was living in Gloucester. The Gloucester local lived in the city for three years before he and his family were reunited with his grandparents and moved to Minas Gerais, a large inland state in southeastern Brazil.
After living in Gerais for 14 years, Kevin's grandparents were battling medical issues and could not provide for themselves. Kevin's family made the hard to decision to move back to the United States, where they could work and send money to provide financial support for his grandparents back home.
It was in January of 2017 that Kevin arrived in Gloucester, where he is living with his mother, father and sister, and ever since he has proven many times throughout the season that he can fill the gap Gloucester has struggled to fill as a striker.
Kevin, a senior is Gloucester's top goal scorer, and his ability to hold the ball, beat multiple defenders, and finish makes him a reliable player. This is his first and last season playing for the Fishermen.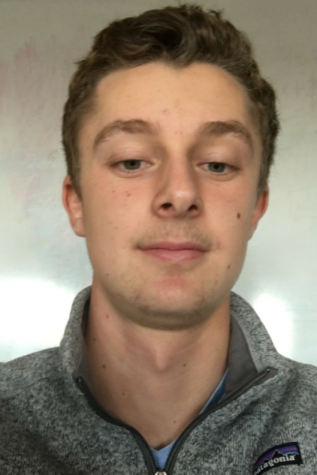 #30-Lasse Struppe
Lasse has been living in Gloucester for 17 years with his mother, father, and older brother. In 1997, his parents moved from Stuttgart, Germany to San Diego, California, where Lasse was born in in 2000. After coming to America for work, Lasse's father was living and working in Gloucester in 2001. It was then that Lasse moved with his mom and brother to the distant east coast.
Lasse is playing his second year of soccer as a Fisherman. Because of an early season injury, the varsity regular has had little to no playing time since midway through the season. He has since been supporting the team alongside Armando and Macros Trejo, making sure he attends home as well as away games.
As a defender on the varsity team, Lasse has stayed positive through the season. His presence is noticeable when he is with the team either on the bus to to away games or when watching game film.
"The team is full of players who help one another and are there for one another. It's a lot of fun being with the team whenever I can," said Lasse.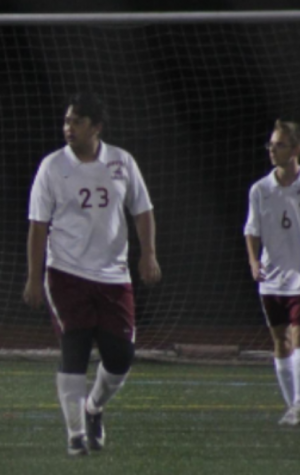 #23- Mario Santos
Mario is playing his second and last year of soccer as a senior. The midfielder has been living in Gloucester for four years with his mother and younger brother.
Mario was born in West palm Beach, Florida in 1999. He grew up with his mother and father, who are originally from El Salvador. The family lived in Palm Beach for 13 years before his father passed away.
In the summer of 2013 Mario's mother decided to move to Gloucester, where his uncle and aunt were living.
"I like living here, we have the beaches and the backshore, and we're constantly surrounded by good people." said Santos. As for the soccer team, "It's been a fun season, I'm just hoping we can keep up the tempo, keep winning, and make it far into the tourney so it doesn't end too soon."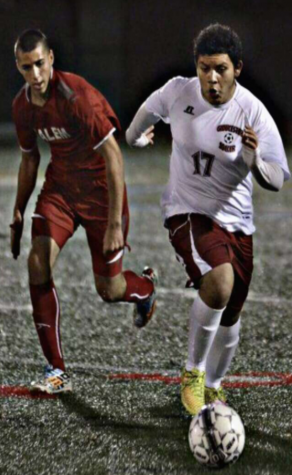 Marcos Trejo
Marcos joined the coaching staff this year after sporting the number 17 jersey for two years. He is a senior at GHS and is now Armando's assistant, often catching what Armando misses and advising players with his years of experience as a varsity player.
Marcos is a native of Spain, and was born in Bilbao, an industrial port city in northern part of the country. He lived in the beautiful country with his parents and older brother. But when the Great Recession of Spain hit in 2008-2013 period, millions were declared unemployed with layoffs, and the struggles of finding a job forced many to seek jobs overseas.
Marcos' aunt had moved to the United States years ahead of his family in order to support the family and obtain the documents they needed to move. Hoping to find work opportunities in the new country, Marcos' parents joined his aunt a few years before Marcos and his brother could come. He and his brother lived with his grandparents in Spain as they waited for their documents.
It was in the summer of 2014 that- after living without their parents for years- the two brothers were able to move to the small but sustainable city of Gloucester to join their parents. Since then, Marcos has played two years of varsity and decided to stay involved with the program for his senior year by supporting Armando on the sidelines, where he enjoys being a part of the success that has come to the team.
"This is the best season the program has had in the last few years. We have the talent on the team, as well as the opportunity to make a big impact and play hard to compete at a  high level," said Marcos. "As long as the players stay motivated and keep playing the way they have, we have a chance at making it very far into the tournament."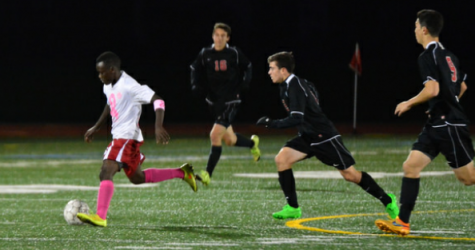 #3- Joe Kibango
I was born in 1998 in small but unique Kigoma, a lake port town on the eastern shore of Lake Tanganyika in western Tanzania.
I lived in the town with my mother, grandmother, great grandmother, aunts, uncles, and cousins. We lived in Kigoma until I was about four years old when my mother and her siblings left Kigoma and moved to Dar Es Salaam, a port city on the eastern coast of Tanzania.
My mother ended up leaving the country in order to get settled in the United States. I spent the next year living in rural Kigoma with my grandmother and great grandmother. After what seemed like eternity I was sent to live with my mother's siblings and their kids in Dar Es Salaam.
In the two years I spent in what was then the capital of the country, I attended St. Mary's boarding school in order to learn English while I waited for authorized documents, which would allow me to move to the U.S. with my mother, stepdad and newborn sister.
Two years after my mom left I followed her. A few days after arriving, my family and I drove to our new home in Lynn, MA. We lived in Lynn for two years, where I attended first and second grade to become fluent in English. When I was nine years old, my family decided to move to Gloucester with my grandmother.
As soon as I arrived in Gloucester, the city started to impact me as I got more involved with the community and attended its schools. Gloucester has been a home for me and my family, as we have been welcomed and accepted into the community, allowing me to make the friends I have and enjoy being here.
Since I first attended the high school, I was able to be a part of a great soccer program that made soccer not just an activity, but a passion that helps me grow.
The soccer program also has many players who are first, second or third generation Americans. Other nationalities represented in the program include Portuguese, Italian, Greek, African American, Irish, Russian, Finnish, and Polish.
Gloucester has become a harbor home for those born locally and overseas. It is a city that accepts those who are looking to settle in America. Because of this, immigrants here can work hard all the while enjoying its unique and lively culture.
"It is very nice here. The people are so nice and everyone is friendly," said Mohamed. "I like being here because Gloucester is beautiful. I like playing soccer because it has been so much fun."