New lockers have some students seeing red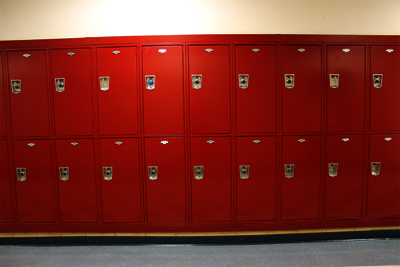 This year, GHS students returned to school expecting new teachers, new administrators, and new classes. But many were surprised to find a new installment of lockers as well.
Located primarily on the first and second floors, the new lockers have been met with mixed reviews.  "I love my new locker," said senior Kayla Lane. "It's so spacious, I can actually fit my backpack in here." Other students have complained about the top and bottom situation and how crowded it can be during passing times.
"People breathe down my neck," said senior Brianna Sutherland.  "You either get a crotch or an armpit," said Emma Knowlton.  "It's awkward. Someone could just look up my skirt."
Presently there are no new lockers on the third floor. "I think it's unfair for the first and second floors to get new lockers when the third floor lockers are in the worst condition," said sophomore Sammy Orlando.
Gloucester High School principal Mr. Erik Anderson says he did a "walk by" of the lockers on every floor and deemed them all to be in poor condition. "Generally they were all in pretty bad shape," said Anderson "This is something that really needed to be done. I just hope the students will be happy, although I know they are not perfect."
The lockers are being installed in three phases. If everything goes as planned, the remaining sections of the first and second floors will have new lockers by next summer – with plans to install third floor lockers the following year. The total cost for 228 sections of lockers was $28,000.
"I think it is a waste of money to get new lockers when we have corroding ceiling tiles" said sophomore Danielle Bauke, "That would have been a better investment."
Anderson agrees that the ceilings are in very bad condition, but says the school is not eligible to receive money from the state to fix the roof until 2016, when the roof turns twenty. "It is very unfortunate, but it is not something we can get to at this time," said Anderson.
Some upperclassmen feel it is unfair that the freshmen were assigned new lockers on the first floor; that it should be something you earn as you progress throughout high school.
For any upperclassmen, Principal Anderson agrees that it is important that they get new lockers first. "I'd like seniors who can move to move," said Anderson. He encourages students who are not happy with their locker to switch with someone else. But don't forget to ask permission first.