GHS teen artists can help keep our oceans clean
The Gloucester Clean City Commission needs local artists to help out with its recent project that pairs art with environmental awareness. It is very common for art around Gloucester to compliment our unique landscape. This project is going to be preventing ocean pollution, while also getting observers to recognize the epidemic. The best part about this project? That you, a GHS student, can help!
Drain smART Gloucester, the Gloucester Clean City Commission, and other local environmental organizations have come together to give Gloucester's storm drains a makeover. These storm drains are painted with statement pieces about pollution and the affect it has on Gloucester's oceans.
How does painting these storm drains help keep Gloucester clean? Plastic, garbage, and cigarette butts end up in the drain when they are deserted by Gloucester residents. Then, the drain carries the rubbish back into the ocean and pollutes the water. So, by revamping storm drains with a message, less scraps will be dumped, and much less pollutants will be finding their way to Gloucester's waterways.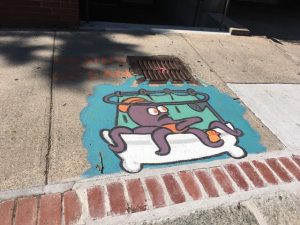 This project was adopted from a very similar campaign in Salem, which spread throughout the city like wildfire.  According to GHS Art teacher Lorrinda Cerruti, it changed many in the community for the better.
"I've seen it first hand in Salem," said Cerruti. " I looked down and immediately saw the message and it was very clear. Since then I've thought about what I put down the drain and how it has a larger effect on the community."
The Gloucester Clean City Committee urges that this is publicly open to the community, including those who are Gloucester residents and students interested in art from the ages of high school and older. To truly get this project going, it is crucial for the Gloucester youth to lend a hand, artists or not.
"I think that people in the community are always surprised when they ask our students for help, and get such a high quality of work." Cerruti comments.
According to GHS Art student Caroline Enos,  GHS teens are very aware of the impact they will be having on Gloucester's future.
"It's a good step in the right direction. Climate change and the effects of pollution are very real, especially since our community is located on the coast," said Enos.
The mission of creating these murals is to spread awareness of the issue, while also complementing Gloucester's renowned and intricate art scene. They will be on display on the Gloucester streets for anyone passing by to view.
If you are a GHS student who wants to get involved in the Gloucester community, have an idea that might contribute to the initiative, or simply love art, this project needs your contribution.
To learn more about the project, to volunteer, or get involved, reach out to to smART Gloucester, by emailing drainsmart@seasidesustainability.org.