Drill Team takes home first at PA meet, free ticket to Nationals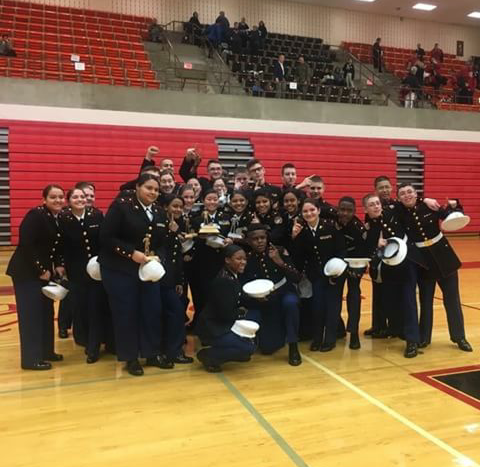 After a rocky start to the season, Gloucester High School's  JROTC Drill Team qualified for Nationals after placing first overall at a Reading, Pennsylvania drill meet over the weekend.
"The team was well organized, the kids did well, and the team did good overall," said JROTC program leader Gunner Muth.
"Going into the meet, I felt like we weren't going to win," said Cadet Executive Officer 2nd Lieutenant Belle Muller. "But I was motivated along with everyone else."
Gloucester is the first school out of fifteen to qualify for Nationals, which will be held in Irving, Texas next April. The United States Marine Corps will also pay for the team's travel and lodging for Nationals as a result of their first place win in Reading.
"This competition, unlike the others, was a lot more stressful," said Cadet Commanding Officer Cadet 1st Lieutenant Soo Ae Ono, who is also the Unarmed commander. "We were competing against schools we have never competed against, and knowing that a trip to Texas was on the line made winning something all of us wanted even more."
The team finished first place overall, first in Unarmed and Armed Exhibition, second place in Unarmed Regulation, third place in Unarmed Inspection, and fourth place Armed Regulation and Color Guard.
"The team had to take first place overall in order to qualify for Nationals, and had to work hard to make up for the shortcomings we had at the past several meets," said Armed commander Corporal Liz Schuster.
Armed Regulation won first place and the Color Guard placed second at a Beverly meet several weeks ago, where Gloucester beat rivals Lowell, who was 2016's Air Force national champions, and Lynn English. However, Unarmed placed third in Regulation and Exhibition and was one of the only parts of the team to place in the first competition of the year in Mexico, New York.
"I think that because of all of the mistakes we made as a team in the past competitions that we were so successful at the competition in Pennsylvania," said Ono. "Master Sergeant and Gunner looked at what we needed to work on, and we used that as motivation to do even better."
This is also the first season in several years where Gloucester has had an armed division of the drill team. Many of the armed members have not been a part of the team before, but have shown that hard work pays off with their important contributions and vital win in Pennsylvania.
"Our entire team worked hard preparing from day one at our 6:00 am practices, which sometimes meant we had to wake up at 4:30 am to get ready for school and we sometimes practiced after school," said Muller.
The team will attend two more meets before heading to Nationals in April. It will compete at Lowell in February, and only practice in the one Gloucester will host in January, since a host team's scores do not count. 
The team is looking to recruit new members who are already a part of Gloucester's JROTC program, or who will be next semester. Current members will also raise money in the months until Nationals, which will be used to pay for food and events during their stay in Texas.
"We will practice hard for four months and when we go to Texas, we want to have fun and bond," said Schuster. "But our ultimate goal is to win, or at least place at Nationals. We came from nothing, and if we have enough heart, determination, and motivation, we can definitely place."
"Our cadets worked their butts off every day and they truly deserve this win," said Muller. "This program has never been better… OORAH!"