Niles Beach closed due to wreckage cleanup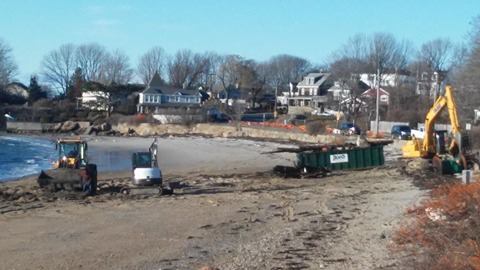 Niles Beach has been shut down temporarily due to debris from the sinking Blue Ocean on Monday, November 21st. The boat broke away from its anchor on November 10th and since then has made its way towards the shore at Niles.
The Blue Ocean had been tilted on its side, resting next to Eastern Point Boulevard. On Friday, crews set out to raise the boat and float it, but the attempt was unsuccessful.
No efforts were made over the weekend due to windy and unfavorable weather conditions.
On Sunday, a barge broke free from its anchor and also washed up onto Niles Beach.
The barge belonged to Charter Contracting and is a part of National Grid's remediation project. The boat was towed to the inner harbor on Monday by a tugboat sent out by Charter Contracting.
As for the Blue Ocean, another successful attempt to remove it from the water was carried out on Tuesday afternoon. Workers managed to break up what was left of the boat and put the pieces into several large dumpsters and rake the beach for any remaining  debris.
The loose barge, on the other hand, remains adrift off the coast of Eastern Point Boulevard between the Dog Bar Breakwater and Ten Pound Island.