Harvest Music Festival a success
From vendors and live music to Gillnetter reporters witnessing Henry Allen growling at bees, the Gloucester Harvest Music Festival was a fun charity event for all who attended.
"It was a glorious day," said Mayor Sefatia Romeo Theken.
Part of the proceeds from the event will be donated to the Addison Gilbert Hospital Citizens Fund.
"Our community has a history of support organizations that is fuller than other communities our size," said Allen. "I think the Addison Gilbert Hospital Citizens Fund is a very worthwhile cause."
Henry Allen rocked the crowd with his band "Henry Allen & the New Swingset," and opened the festival with lively jazz music.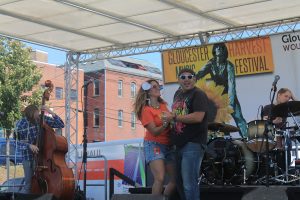 Gianna Cabral
Local musician Allan Estes also performed original music with his guitar and harmonica, and many other acts from Gloucester and beyond followed with impressive sets. Back Eddy rocked the stage with a mix of classic rock, and jam band favorites.
Headliner Zepparella, a band that's widely recognized in the world of classic rock cover bands,left the crowd with "A Whole Lotta Love" after playing many of Led Zeppelin's biggest hits.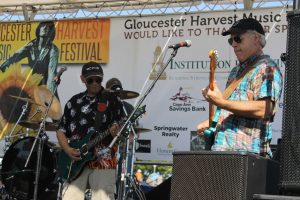 The festival was also a great way for small businesses to get their names out in the community and sell some of their goods.
"The Cape Ann Farmers Market and events like these are a great way to get your business going," said Myron G. Lapine, founder and co-owner of Ma & Pa's Pickles.
The owner of Jackie's Tees in Beverly, Jackie Moldau,  designed t-shirts and bags specifically  for the music festival. She also had a station where you could design a shirt and had many activities for kids to enjoy.
Julie Kesterson, leader of Little Dresses for Africa in Gloucester, sold children's dresses that, like the Harvest Festival, allowed community members to contribute to charity. All of the proceeds from the dresses goes to making more dresses and shipping them to Africa.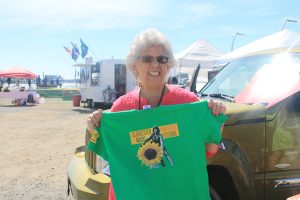 Gianna Cabral

¨Everything you can put through a machine can make a dress," said Kesterson. ¨We feel like no child should go without.¨