Cirque du Soleil brings "Kuriosity" to a new level
Cirque du Soleil's new show "Kurios" will be playing at Suffolk Downs in Boston until July 10, and proves to be the perfect modern take on side shows and circuses as it gives an energetic look into the imaginative world of steampunk and unconventionality.
People of all ages crowd into the foggy tent, the inside resembling the springs and gears of a clock. Hues of blue, orange, yellow, and red float in the smoke as the audience excitedly anticipates the flips, whirls, twists, and mystery to come, "kurios" to see what will unfold as a mad scientist and his inventions invite the audience to join the adventure to come.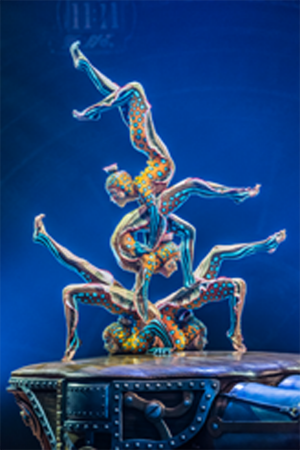 With a robot wandering the stage (who looks so odd that it could be mistaken for Tim Burton and Noo-Noo from teletubbies' child), and oddly dressed characters bending their bodies in ways that do not seem human, there is no way you could be disappointed by "Kurios."
The live music is fantastic and fits the aesthetic of the show perfectly, while the cat-like ringmaster makes the performance even more zany, freaky, and stunning overall.
The show features acts such as acrobats who balances upside down on top of one another and toss each other in the air while doing various flips, and a woman who balances on a bike that spins around the room attached to a ribbon in mid-air.
Between each major performance, small comedic routines keep the audience consistently entertained throughout the show. Every second of the show keeps the audience on the edge of their seat, and manages to create an unforgettable experience for all.
Gillnetter staff writers Maria Kotob and Caroline Enos were invited to opening night of the event for free by The Boston Globe, and were able to witness the excitement and wonder of Cirque du Soleil firsthand. Hopefully you and your family will, too.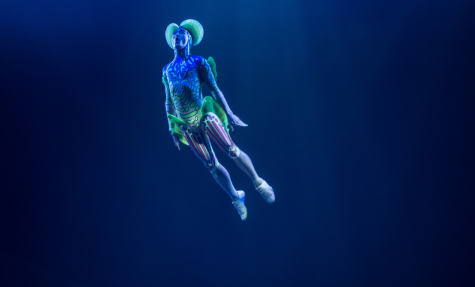 If you go:
What: Kurios by Cirque du Soleil, a family-friendly circus that has humor for all ages and will not disappoint.
Where: Suffolk Downs,  525 William F McClellan Hwy, Boston, MA 02128
When: May 26-July 10, times vary.
Click the following link for tickets.
https://tickets.cirquedusoleil.com/versions/es/2.1.1.12/#/7536e550-160d-44fc-9759-adac712e74cb/shop/search?skin=kurios