Girls lax beats Winthrop, shows promise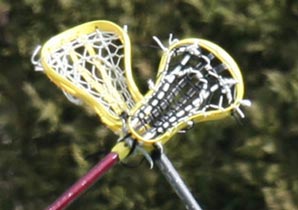 Three games in a row, the Gloucester girls Lacrosse team have ended with a score of 15-3. And while they have been on the losing end twice, things are looking up for the reconstructed team.
Three games into the season, with new coach Mike Latoff, the team is 1-2, after beating Winthrop and losing to Wakefield and Haverhill. According to Lattof, a conference win is the goal.
"The first two teams were division 1 teams and we held our own," said senior lax player Kate Morrissey. With the first conference win under our belt we will keep improving and winning."
"With Mike as our coach we are improving game by game," said Morrissey. "He is doing a really great job and is getting used to the new atmosphere from football to girls lacrosse.
The team hope to improve its record as the season progresses. The next game will be Tuesday against Saugus 4:00pm at Saugus High School.