DECA student Mills to compete in national competition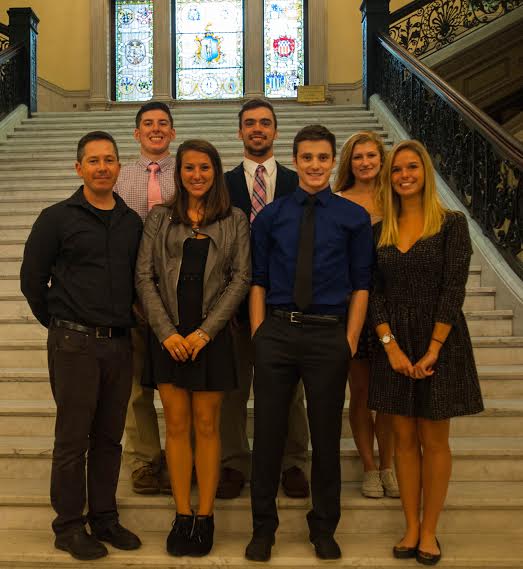 This April, Gloucester High School senior Hannah Mills will be competing in two national conventions for DECA. She, and other state qualifiers, will attempt to win the thousands of dollars worth of scholarship money.
"I'm very grateful to have been given the opportunity to compete in DECA at the national level." said Mills. "It will give me a very good idea of how the real business world will be."
Mills placed fourth in Massachusetts' most recent Hospitality and Tourism DECA competitions this past year. Her victory won her the chance to compete in the Nashville, Tennessee's national convention from April 23-26, 2016 for multiple scholarship awards.
Mills will return to Gloucester, only to leave shortly thereafter to attend the Moose Youth Awareness International Student Congress from April 28-­May 2, 2016. She finished in third place for the Massachusetts and Rhode Island District for student speakers, allowing her to attend said convention.
Mills will also attend an all expense paid trip to the congress in Williamsburg, Virginia where she will attempt to win one of the five scholarships being awarded. These scholarships can range from $2000 to $12000 in funds.
Sponsoring Mills is the Cape Ann Moose Lodge #1471 and Women of the Moose Chapter #896. Along with the trip, they will also provide a $250 check to Mills for basic daily living costs.
Many people have helped facilitate the program, including Moose Youth Awareness Coordinators Don Riley and Linda O'Maley, Val Gilman (Ward 4 City Councilor), and GHS English teacher Zach Roy, (staff adviser).
Secretary of her class and current lacrosse captain, Mills shows leadership in her everyday school life. In order to win competitions and be invited to the many conventions she will be attending, leadership is a necessity, and Mills has it. In the upcoming fall, she will be attending High Point University in High Point, North Carolina to study international business.
Senior Patrick Goss will join Mills at the district Moose organization's upcoming MARI/MOOSE convention in August for completing the most talks throughout the district student speakers. Both students will receive a $500 check.