Holy Cow supports customer's favorite charities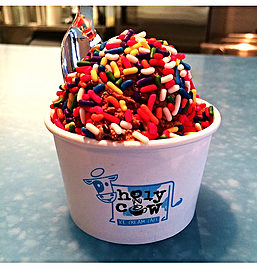 Ice cream will be consumed for several good causes this month after Holy Cow Ice Cream Cafe announced that they are donating all of their April sales to three local charities.
Throughout March, Holy Cow asked people to nominate their favorite charities on the shop's Facebook page. The Gloucester High School Auditorium Fund, The Randy Burns Fund, and Cape Ann Animal Aid were announced as the winners on April 1.
"It is important to me to be a positive influence in the community of Gloucester, and that means giving back as well as running a business," said Holy Cow owner Mike Schifino.
The money donated to the winning foundations and organizations will not only help fund their causes, but will make a positive impact in the community, as well.
Cape Ann Animal Aid plans on using the money to pay for shelter, food, vaccinations, and medical costs for animals in need.
"We were incredibly honored just to be nominated by members of the community, and to be one of the organizations chosen is a great honor." said Rebecca Baylies, Director of Development and Communications for Cape Ann Animal Aid.
"The homeless animals we care for don't have a voice or an ability to vote for the organization so to have so many caring individuals from our community speak up on their behalf is always appreciated," said Baylies. "The impact these funds will have on the animals we care for is immeasurable."
The money donated to the Gloucester High School Auditorium Fund will be used to pay for part of the cost for a new roof for Gloucester's high school. While the state will pay up to half of it, the city has to cover the remaining cost.
The Gloucester High School Auditorium Fund plans to put the money towards repairing the roof.
"Since the money is part of the Auditorium Fund, I will turn it over to appropriate authorities to help pay for the roof," said GHS drama teacher Jessica Ruggles. "I think the kids are very excited."
To support these charities, purchase ice cream from Holy Cow from April 15 at 3:00pm to the end of the month and they will donate all of the proceeds they make to the winning charities.
If this fundraiser is a huge success, Holy Cow will continue to have it annually.
"We hope that the outcome of this is to excite people for the kickoff of spring and the nice weather around the corner as well as being able to hand over donations to worthy causes," said Schifino. "We hope it is significant to help whatever the cause."