GHS students win math scholarship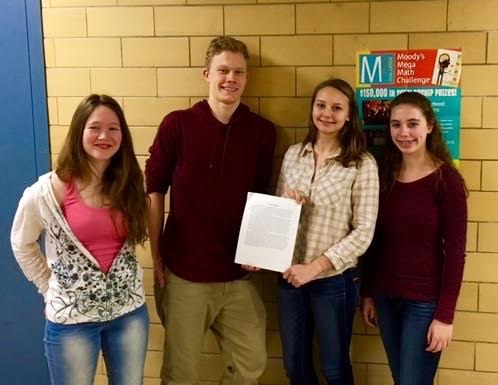 As of Monday, GHS seniors Matilda Grow and Lukas Struppe along with juniors Sammy Orlando and Danielle Bauke finished in the top eight percent of the national Moody's Mega Math Challenge. The team received an honorable mention and $1000 prize money.
"I'm pretty stoked," said Struppe. "The fact that we were in the top eight percent with a team we threw together last minute is amazing, along with the fact that we got a scholarship to go along with it."
Last month, the team competed against over 1500 teams of high school students nationwide to solve an open-ended math problem about which of four car sharing models was the pest to purchase in four urban areas. Along with this, teams had to explore the impact of technological advances in the automotive industry.
These teams had only 14 consecutive hours to research, solve, and write up their solutions and submit files to the Moody's Mega Math Challenge website.
Out of about 6000 students, the GHS team finished as top winners.
"All of the team members played a crucial role in putting together our report," said Struppe, "and I am proud to be part of such a great group of people."