Volleyball tournament to benefit the G.O. Fund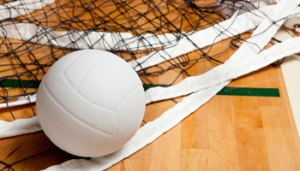 Tomorrow, there will be a school-wide opportunity to attend the last 3-4 rounds of a double elimination Intramural Volleyball  tournament.  The games will take place in the field house during G-Block, and costs five dollars to attend. All money raised will benefit the G.O. Fund for students Guilherme Spairini and Olivia Piscitello.
According to history teacher, and  organizer Philip Cook,  intramural volleyball started twelve years ago by history teacher Richard Francis.
"When he was in high school here they had intramural volleyball", said Cook. "He brought it back when I was a first year teacher and I didn't want it to die so last year I took it over."
Each team is co-ed., and is sponsored by a teacher. According to Cook, the school-wide volleyball league has created a communal environment at GHS.
"People from different sports all play together," said Cook. "It's great for the adults to team up with the kids. It's cool for me to share that with my students."
If you have a team and are looking to win, Mr. Cook offers some good advice.
"A lot of the game is mental. People have to tell themselves to do a few simple things, it's like life," said Cook. "I love volleyball. Most people would rather watch men's sports, but with volleyball women are so good. Every team has good boys, but it's the teams with good girls that win."
The All-Star games will take place on Friday, March 11th.