Fishermen advance to semi-finals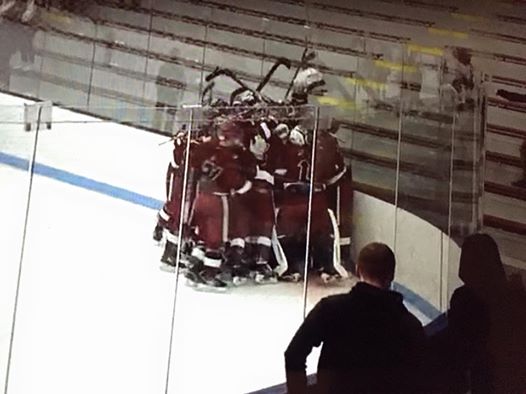 The Gloucester Fishermen upset the Tewksbury Redmen last Friday night with a 4-2 victory. It was a hard-fought win for the Fishermen, beating the third seed in the playoffs making them a team to be feared.
The Fishermen started off slowly with Tewksbury controlling the play from the start. But Freshman Derek Hopkins was able to put the puck past the Tewksbury goalie off a rebound from Chris Noyes. Soon after Gloucester was put to the test on a powerplay, getting their second goal of the night. Eric Chalmers made a pass to Sal Costanzo who gave it right to Eddie Mahoney, who was then able to finish the great play.
Before the first period ended, Tewksbury was able to put the puck past goalie Noah Poliskey when the referee blocked two Gloucester icing, keeping the puck in the Fishermen's defensive zone.
The Fishermen came out a lot stronger in the second period, scoring another goal to make it 3-1. Noyes was able to go five hole on a nice shot from the slot. This would be the only goal this period with Poliskey playing the best performance for a Gloucester goaltender in awhile.
Tewksbury came out in the third, trying to make up for their missed opportunities in the second. Tewksbury scored their second goal five minutes into the third making it 3-2 with a lot of time left to tie it. Despite the effort to tie the game, Poliskey was there for every save, not letting a single shot go by him. Costanzo was able to end the game when he scored in the open net at the end of the third.
The Fishermen have not made it this far in the playoffs since 2008 and have been playing outstanding hockey. Gloucester's next game is against Lincoln-Sudbury at the Chelmsford Forum Tuesday at  5:00 p.m