GHS journalists invited to Boston Globe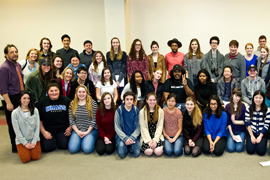 The Boston Globe is inspiring high school journalists through the worlds of music, journalism, and business after holding a panel discussion and press conference for students on February 16th.
GHS reporters Jenna Taormina, Maria Kotob and Caroline Enos were among the 50 guests representing 19 school newspapers and magazines who attended the music themed journalism event.
Globe sports and music reporter Julian Benbow, Boston Calling concert series promoter Mike Snow, and rapper Michael Christmas led a panel discussion and gave interviews to student reporters.
"I want you all to be able to go home with content," said Boston Globe writer and event organizer John Vitti to students. "I also want you to learn how and why you do what you do."
"It was a great experience"  said The Gillnetter editor Taormina."It taught me a lot about journalism and how a real newspaper works in comparison to just a high school paper. There are people in the press room 24 hours a day. We saw the sports writers who were working at 8:00pm."
Taormina, who interviewed Benbow, said she got some good advice.
"He said to read a ton, and go back and read what you wrote to see what the editors changed,' said Taormina. "Don't get hung up on the changes the editors make.  Editors are not making changes to be mean, they are doing it to help.
Taormina will bring this advice back to her Media and Publications classmates.
"We are all still journalists in training," said Taormina. "None of us are experts. So if your adviser or editor changes something it is probably for the better.  We have to learn to take criticism. Just make sure to try to improve day by day. We are always learning."
The evening was an educational experience for aspiring young journalists, but also presented students with pointers on how to obtain success, regardless of what path they choose to take in life.
"As a reporter, and in many other jobs, you have to learn to work with a lot of people and understand that sometimes you'll have one day and other time you will have a week for a deadline." said Benbow.
"You can't quit and you can't doubt yourself, and if you don't want it that bad, don't quit your job or school to do it," said Christmas. "You have to really want it. The main thing in succeeding in life is that you have to know what you want."
After attending three high schools and eventually dropping out as an upperclassman, Christmas started his rapping career as a jobless teen who sat on his couch doing nothing for the first six months of his career. But he eventually realized that combining hard work with determination was the only way to achieve his dream.
"There's no clear path on how to get somewhere. You have to be an individual to make it as a rapper, not just a less good Kendrick Lamar."
Benbow stressed that you have to be yourself and do what you want to do, not be what others want you to be. Don't choose a job just for the money, and make sure you are doing what you love so that you don't regret your choices later in life.
"I was really young when I started writing," said Benbow. "You're thinking about what you're going to do – be a doctor, or a lawyer. I was like, 'No, I'm gonna write cool stuff every day,' and now I do."