New tables bring good vibes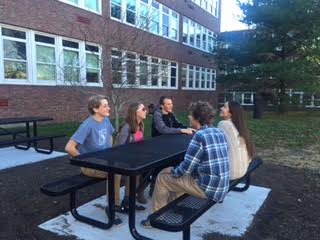 Ever look through the cafeteria windows on a beautiful day and long to eat your lunch on the grass outside the school? Thanks to the class of 2015, students can now enjoy their lunches at four new tables outside the teacher lunch room.
"We're trying to start new traditions," said former class of 2015 adviser Rayenne Menery. "We picked that spot so that it could be overlooking Derek's tree and make it a nice commons area for staff and students."
Derek's tree was dedicated to Derek Johnsen, a member of the class of 2015 who died during their senior year.
The space will be open to all grades during both lunches, and students will be responsible for cleaning up after themselves.
On Fridays, Senior Student Council or NHS members who have directed study will be allowed to use the tables during that class.
The class of 2015 thanked the Gloucester Department of Public Works and especially Joe Lucido, as well as Andrew Latassa Sr. for assisting in the project, which cost $3,600.
"We're hoping kids are getting into the tradition of going out," said Menery. "Hopefully future classes will add to the space."