GHS welcomes Jane Cullen to guidance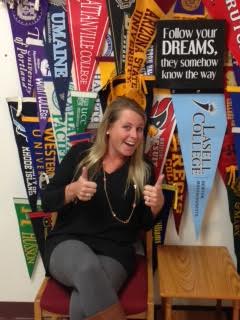 Class sizing and scheduling has been chaotic in the weeks since Matt Duncan's sudden departure, and new guidance councilor Jane Cullen hopes to restore order to the guidance department. She hopes to make this transition as smooth as possible for students.
"My door is always open, and I encourage any student with concerns or questions to make an appointment and come see me." says Cullen.
Some seniors came back to school this year finding themselves with no guidance counselor. This was a major concern for seniors who were trying to navigate the college application process without assistance.
"I felt behind at first, but after a couple of meetings with the new guidance counselor I feel that I am right where I should be," said Mahoney.
Cullen said seniors applying early action or early decision are her priority.  "If you are applying early and have not met with me yet, please come down as soon as possible," said Cullen.
Most colleges require letters of recommendation, and it is preferred that one come from a guidance counselor. Some seniors are now faced with the challenge of asking Cullen to write their letter, even though they just met her. Cullen however, seems confident with this idea. "It happens to every counselor at some point" said Cullen, "It's not ideal, but I have had a lot of practice with it."
For seniors who are still feel they are behind schedule, the guidance department is offering a Common App boot camps after school. Guidance counselors will be leading this program on November 5, for any students who need support for completing their application.
After the College Application season is over, Cullen intends to direct her focus to underclassmen. Specifically on launching the college search for juniors and assisting with course selection for freshmen and sophomores.
"Right now most of my meetings with underclassmen are only an as needed basis," says Cullen.
Despite the time consuming senior application process, Cullen is doing her best to be accessible to all students with concerns. "I am trying to get out in the hallways and down to the lunchroom periodically to be visible."
Cullen studied Psychology at Springfield College and went on to get her masters at Suffolk University. She was a counselor at Archbishop Williams High School in Braintree before she moved to the north shore and says GHS is very similar.
"The students and faculty are really great here. So far, I have been warmly welcomed at GHS."