Gloucester U fall session begins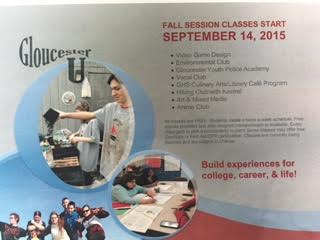 The Gloucester U after school program is up and running for the 2015-2016 school year. The fall session offers great new classes and is open for student enrollment.
"We want to meet the college and career readiness needs of our students after school in a fun and exciting way," says Gloucester U family engagement coordinator Caitlin Kreitman. "It's a great way to get involved."
Many students were looking forward for the new session, which started on September 14.
"It was good last year and it's going to be better this year," said Police Academy student Tayia Klyce. "We're going to a lot more places this session."
A variety of new and improved classes are open for enrollment, including GU Culinary Arts, which will involve opening a cafe in the school library, and Vocal Club.
Gloucester U is also offering Tuesday Talks. It is a new and exciting workshop that will discuss social issues and include career focused learning.
Sophomore Keith Russell is taking a class in Video Game Design.
"It's a great experience and really fun to do," said Russell. "The software was easy to use and our advisor Randy was really helpful. I never thought I would actually see a game be developed. It was cool to find and fix the glitches in the games' scripts."
To get involved in Gloucester U, find Ms. Whitney in the library or go to http://gloucesteru.weebly.com/
Gloucester U fall session-
Monday (2:15-5pm)
Video Game Design
Police Academy (two times a week)
Vocal  Club
Tuesday (2:15-5pm)
Environmental Club (two times a week)
Tuesday Talks
Wednesday (2:15-5pm)
Hiking Club
Anime Club
Police Academy (two times a week)
Credit Recovery
Thursday (2:15-5pm)
Environmental Club (two times a week)
Culinary Arts/Library Cafe Club