Opinion: Deflate this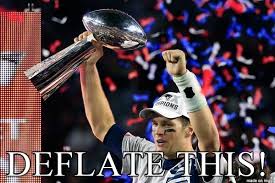 The National Football League really blew "Deflategate" out of proportion. They tried to ruin not only the Patriots' reputation, but also Tom Brady's reputation as well. The Wells report was the only item that the League had for evidence, and even that was only based on Tom Brady having "general knowledge of the situation".
The NFL tried to humiliate a man that was a role model within their league and conducted himself on and off the field in a positive way. He did nothing wrong and many current and former players and coaches have said that commissioner Goodell has lost some of his own power by acting on this incident as harshly as he did.
Brady came out last week with a statement, and threw four touchdowns in the season opener against the Pittsburgh Steelers. He seemed like he was already in playoff form and came out with an intensity unlike anyone else.
Tom Brady is arguably the greatest quarterback in NFL history, and he hopes to add ring number five to his legacy this year. The NFL has been out to get the Patriots organization ever since the "Spygate" incident, yet the Patriots continue to win and, in true Belichick form, ignore the press.