Goodbye freshman backpacks, hello Chromebooks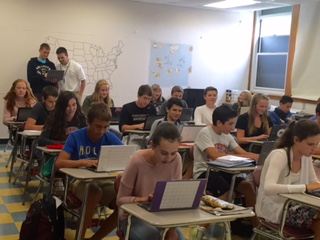 Freshman year is a fast transition full of new classes, new teachers, and a whole lot of new information. Luckily for students in the class of 2019, they were given their very own Chromebooks provided by Gloucester Education Foundation.
The abundance of technology entering the classrooms means that some teachers might have to adjust their curriculum.
Freshmen English teacher James Cook, plans on incorporating the new technology everyday in the classroom.
"I have a lot of activities and lot of protocols," said Cook. "And not just in ways that replace paper, but in ways that allow students to do research and use them to explore questions that come up in class and to do research that includes watching Youtube videos."
As the year continues, the students might see a change in the learning environment as the computers begin to be used more.
"I feel pretty confident that freshmen will have lots of ways of using them regularly," said Cook.
Upperclassmen will notice some teachers using websites such as Google Classroom, or Turnitin.com for everyday assignments. One of the most useful tasks that a Chromebook can be used for is organized storage. Notes, books, assignments, and homework can all be completed all online.
"I have to use my computer in classes like history, where we virtually do everything on it," said freshman Robby Horne.
David Pleuler, a ninth grade history teacher, shares the same views as Cook but extends the use of technology in his classroom.
"I'm trying to set up my class so we exclusively use them.  No more lecturing class, it's all on the chromebook." said Pleuler. "It's similar to college classes, where each student can be at a different spot."
Even though some teachers feel confident in their computer skills, others might need more training.
According to Joe Brancaleone, the district's IT Systems Administrator, some teachers are more advanced in technology than others.
"Some teachers are prepared," said Brancaleone. "Teachers will need some coaxing to utilize [the technology] and I believe that it's up to them to put it in their curriculum. I think the district should supply that education to them to have it available."
"I think we did an okay job supplying the teachers with the proper knowledge," said Pleuler. "But could we have started earlier or integrated it more to their curriculum? It's too early to know if we did an adequate job or not."
One drawback is that Chromebooks only function with wireless internet.
"Without wifi the Chromebook is useless," said Cook. "It's just a tray. Can they access google docs or research at home? We are the ones who are going to have to check in with students. We don't want students to feel lesser than because they don't have wifi at home."
Another concern is the school's wifi, and other technical issues that may occur.
"There were definitely days last year when history teachers were giving a test and then they couldn't give the test because it was an online assessment. And what are you going to do that day if the wifi is out," said Cook.
Although so far there has been no computer catastrophes, the students may experience more technical difficulties than years previous. "I am concerned about infrastructure,especially in the weeks to come when more people are using them. So we will see when there is a big burden on the system," said Cook.
Pleuler does have more faith in the system this year "There were probably more problems years in the past then there are now."
Brancaleone said the number of of devices connecting to the internet all at the same time, was taxing the wi-fi.
"We added 30 more wireless access points so the school would have enough saturation for the Chromebooks," said Branclaleone. "And we have an additional 30-40 more to put out around the building this month."
As the year progresses, students will be expected to bring in their Chromebooks everyday.