Softball loses in quarterfinals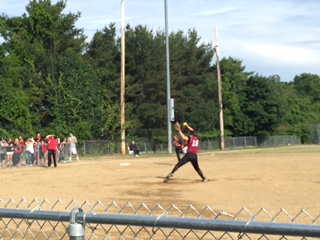 Following Gloucester Softball's win against North Reading, the team lost to Burlington in the quarterfinals of the Northeast Conference state tournament.
The game against North Reading went into extra innings as both teams were tied at 1-1. In the eighth inning, catcher Tess Benson hit the ball to center field which allowed Kylie Allen and Sara Francis, who were on base at the time to score. This put Gloucester up 3-1.
When Gloucester made three easy outs against North Reading to end the inning, the game was over.
"I'm just really proud," said softball coach John John Nicastro. "They were very resilient and they refuse to lose."
The next game ended in a 4-0 loss for Gloucester. Though Gloucester was unable to score, key hits were made by Tess Benson to get on base and advance runners.
Plays in the outfield by center fielder Samantha Cominelli and right fielder Casey Oliver helped prevent players from scoring. Pitcher Karina Keenan made four plays and struck out three people.
"We were a really hardworking team" said junior captain Sara Francis. "Softball hasn't made it to the tournament since 2008 and to win a game was huge."