Game show night to benefit Sunshine Fund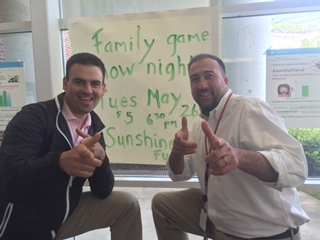 On Tuesday May 26th, students and teachers are welcome to the Gloucester High School Auditorium for a night of games, trivia and fun.
Game show night has been a long standing tradition at Gloucester High School and brings together the staff and students in a fun environment.  All proceeds from ticket sales will benefit the Sunshine Fund.
The Sunshine fund is an account made by the teachers of GHS for any staff member that becomes sick. It raises money and contributes things ranging from gifts to flowers for those who are in need.
"It's been around forever," says co-host of Game Night and history teacher Shaun Goulart. "GHS is a tight knit community, and when someone is in need, our staff and students step up to raise money and help. That's what makes GHS special."
History teacher Rich Francis will also be hosting.
Doors open at 6:30 pm and the festivities begin at 6:50 pm with games like Egg Roulette, in which our very own Principal Anderson will be participating. Other games like Lip Sync Battle, Catch Phrase, and Minute to Win It,  will be played along with many others.
Willing audience members will be chosen to come on stage and participate in the games.
"It's a fun night," said Game Night organizer and history teacher Mike Perreault. "You get to see teachers in a different context."
Tickets are $5.00 and will be sold at the door.