GSA students reach out to staff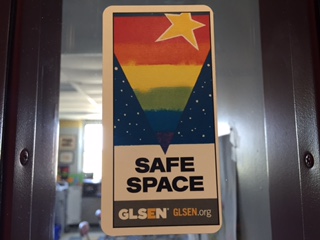 Last week, members of the GHS Gay Straight Alliance (GSA) spoke at the faculty meeting to address the many difficulties that Lesbian, Gay, Bisexual and Transgendered youth have to face in school every day.
GSA members shared personal stories, gave a slideshow presentation and discussed ways teachers can react when they hear derogatory terms such as "that's so gay".
It was not easy for these students to approach the staff of GHS,  but they were dedicated to the cause and encouraged to make a change.
"I was nervous, but it had a good outcome," said senior and GSA Vice President AJ Celentano who spoke at the meeting. "I'm proud of myself for doing it. Some of my teachers approached me about it in a positive way. I think we really touched some of them."
Some members who spoke, such as Justin Dahlmer, have already graduated, but since they played a prominent role in the past and continue to help with GSA, they participated in the meeting.
Hunter Birch, a graduate from Beverly High School, was also invited to train teachers on the correct use of gender preferred pronouns.
The majority of staff felt the meeting was a success and gained some new knowledge.
"I think it was very productive," said senior and GSA President Brianna Woodington.  "We received positive feedback saying it was very informative and brave of us."
The meeting opened some teachers' eyes to language and behavior they had not previously noticed.   For other teachers it reinforced things they had already been seeing.
"I thought it was the best meeting we've had", said GHS English teacher Rory Gentile. "The issues are relevant to everyday classroom activities.  If a kid swears in your class – you address them," said Gentile. "Why wouldn't you address other derogatory terms?"
"It's changing the paradigm of how kids react to one another in a way that hasn't been approached" said Gentile,  "Just taking steps like putting stickers up. That is a step in the right direction."
Safe space stickers were given out to the department heads to distribute to teachers as a way to show LGBT youth that they should feel safe within their classroom.
"I thought the group did an amazing job,"  said GHS Math teacher Deborah Faunce. "I am impressed that these students took the initiative to make this presentation and share with the teachers how to make a difference."
Gay Straight Alliance welcomes new members and meets in Ms. Kamm's room every Wednesday during both lunches.