Solar panel training begins in Electrical Shop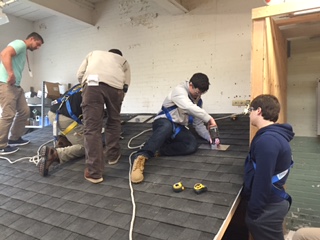 Gloucester High School's electrical program has kicked off a training program in solar energy. Dave Lawless, an instructor trained in using solar energy from Kennebec Valley Community College, came to GHS to install solar panels on a mock roof with students in the electrical class.
GHS is one of three high schools with vocational programs that offer training in solar energy and installation.
"Solar is one of the largest growing industries right now," said electrical teacher Robert Devlin. As of January, the U.S. solar industry employed 174,000 workers. The solar workforce is projected to grow eight times greater than oil, gas, and coal industries.
"We want to give the kids that come into this program more of an opportunity; we want to broaden their opportunities when they leave high school," said Devlin. "It's one more tool for them; another avenue for when they get out of high school."
The current solar panels do not belong to GHS, but Devlin's ultimate goal is to get two solar panels next year to light up the tower on the roof of the school.
Students are also learning how to install solar panels in a residential setting. They will learn different ways to install them and the different times of day for sun exposure.
"I'm really excited," said junior Dominic Nesta. "There are a lot of jobs in that field and a lot of people are into it."
For students, taking four years of electrical shop at the high school puts them one step forward to finding a job. Students, who chose to do so, can apply to Ben Franklin college where they will only have to study for one year.
From there, it is a small and easy step for students to apply and get into Wentworth Institute of Technology in Boston, a renowned technology institute.
Many students working in the program are aware of the benefits of utilizing solar energy.
"I want to learn how to work with solar panels to save mother nature," said senior Bo Bedrosian. "It's better for the environment."
As a final project, students also must learn to use solar panels. Electrical students will take small solar panels and technology they made themselves to power something small such as a coffee maker.
"I think solar panels are great," said Fulton Cunha. "They aren't too much different from other types of energy."