Astley sends strong message against dating violence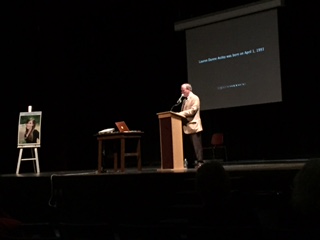 Yesterday, Gloucester High School students assembled to hear Malcolm Astley, father of murder victim Lauren Astley, deliver a powerful message about the loss of his daughter, the threat of abusive relationships, and the lessons he learned from his tragic experience.
Astley, who has spoken at 75 schools, explained the warning signs for potentially abusive relationships, and gave advice for students who might be in an abusive relationship, or have a friend in one. "Please don't be alone," said Astley – who encouraged students to talk to teacher, counselors or a trusted adult.
"The way we improve as a culture is dealing with a crisis and reflecting back on it, and thinking of ways to prevent the crisis, " said Astley who at times appeared on the verge of tears.
"He started crying then I started crying" Sophomore Tayia Klyce "He went through his daughter dying. Think if that was your dad up there."
"When he started crying my heart just shattered," said sophomore Lexi Lucas.
"He's an amazing guy," said junior Tyler Bailey. "It takes a lot of courage to do something like that."
The assembly was preceded by the student body watching the 48 Hours episode on the Lauren Astley murder.
Lauren Astley got the courage to break up with her long term boyfriend, Nate Fujita. She was ready to lead a new life and go off to college. Fujita also had a bright future with a football scholarship to Trinity College.
Fujita lashed out at Lauren Astley for breaking up with him, referred to in the video as break up violence, and brutally murdered Lauren Astley and left her lifeless body in a swamp.
After watching the film Senior Emma Knowlton said "It was very emotional I got very sad". Brianna Levie agreed with her saying it was "very moving".
Kayla Nasser added that she felt this was "good for the school" because students would be more aware of abuse and how to respond to it.
"It was normal everyday people so it made more of an impact" said senior Julianna Costanzo
The event was organized  by adjustment counselor Amy Kamm along with help of the SADD Club (students against destructive decisions). Mayor Sefatia Romeo-Theken, Superintendent Richard Safier, and a Gloucester Police Chief Leonard Campanello also spoke at the event.
Leading up to the event, SADD put up flyers around the school depicting abusive relationships. Outside of Ms.Kamm's room, she has a board with all of the posters, along with a picture of Lauren and handouts.
The SADD club also handed out white ribbons and had a banner for all the students to sign agreeing to veto violence.
SADD feels very strongly about bringing awareness to abusive relationships to everyone, especially students.
According to a Youth Risk Behavior survey of people in abusive relationships, three percent will tell an authority figure, six percent will tell a family member, while seventy-five percent will tell a friend.
At the assembly it was stressed that teens should tell an adult when their friends share concerning information with them.
"If something had happened differently," said Kamm. "The outcome could've been different. The consistent message of anything I do is telling a trusted adult."