Gillnetter prank spreads like wildfire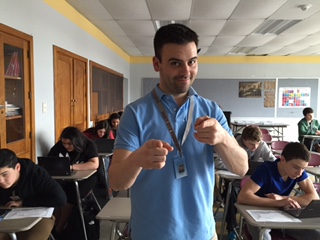 April Fool's Day has come and gone, and now the only joke is Mr. Goulart's dream.
Yesterday, The Gillnetter ran a story about history teacher Shaun Goulart leaving in May to pursue his dream of becoming a Hollywood "superstar."  At the time of this publication, the post has reached 1000 views on Facebook.
"Initially, a lot of people thought it was an April Fool's joke," said Goulart. "But once I acknowledged it was not, they totally bought it. The more movie industry jargon we put in the article, the more authentic it seemed to the students. The fact the movie's production was in Gloucester made it all the more believable."
However, many students were more angered than amused by the story.
"Are you freaking serious?," said freshman Elizabeth Silveria. "I hope he does leave now because that was not cool."
Others had mixed reactions, and found the fake parting to be bittersweet.
"I could not define my tears as of joy or misery," said freshman Max Flavin.
Yet some students could not be baffled by the April Fool's announcement, and found the story to be unbelievable.
"The article was posted on April Fool's Day and I couldn't get a straight answer out of anyone if it was real," said sophomore Ben St. Cyr. "I knew it was all fake."
Freshman Gianna Cabral, however, was humored by the story. "I thought it was a funny joke and could appreciate the humor behind it," said Cabral.
While "Goodbye Mr. Goulart?" has left skepticism and disbelief  in its wake, the ninth grade history teacher is here to stay.
Whether you like it or not.