Goodbye Mr. Goulart?
History teacher leaving to become hot-shot Hollywood production assistant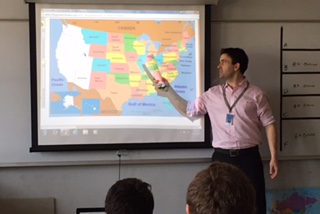 Have you heard of the movie being filmed in Cape Ann with big actors such as Michelle Williams, Kyle Chandler, and Casey Affleck? Well, along with these big stars,  local ninth grade history teacher, Shaun Goulart, will be among them.
Goulart has applied to be a production assistant on the set, and is currently waiting for his leave of absence to be granted. He has had his application on file since college. After a Boston casting agent called to ask if he was still interested in being a production assistant, Goulart accepted.
"I love teaching," said Goulart.  "But an opportunity like this only comes once in a lifetime."
The movie will be shot around the North Shore in cities such as Manchester, Beverly, Essex, Gloucester, and Salem. After Goulart's leave of absence is granted, he will be with production for the duration of the film. After filming in the Boston area, pickups will be shot in Los Angeles beginning in May.
This movie isn't the only thing looking bright for Goulart. It may be possible to get a Screen Actor's Guild card where he will be picked up by their insurance and could spend up to a year on the West Coast promoting this movie and his own movie, Devil's Island.
"My friend who recommended me to be a P.A. saw Devil's Island," stated Goulart. "We discussed finding private investors to maybe make it into a short film this summer."
Goulart has not yet broken the news to his students, but he hopes they will understand his decision to leave.
About the Contributor
Jenna Taormina, Staff Writer, Editor
Jenna Taormina is a member of the GHS field hockey and ice hockey teams and senior Co-Editor of The Gillnetter. She is also a member of the National Honors...