This Thursday, the GHS Drama Club's production of 'Little Women' hits the stage, an adaptation of Louisa May Alcott's classic 1868 novel. The play has been in production for two months, and stars a cast of 11 of the school's best acting students, as well as a troupe of costume designers, stage managers, and tech crew members.
The story follows the four March sisters: the youngest, spoiled and artistic Amy (Emma Alves), kind and shy Beth (Melody Mattson), strong-willed and stubborn Jo (Aurelia Harrison), and mature and responsible Meg (Malia Andrews). The sisters balance maintaining the household with their mother Marmee (Lia Numerosi) with their father (Thea Cunningham) is off at war, with the romance that comes with youth – with the charming and confident Laurie (Sean Buckley), and Laurie's timid tutor, Mr. Brooke (Finn Wall).
The show features GHS's best actors and actresses performing in one of the program's most dramatic shows. The cast has worked incredibly hard to keep the emotion raw and realistic, and to convey the beauty and heartbreak of real human relationships.
"Part of what makes Little Women so much more impactful is that it not only has a moving story line but also a wide array of human experiences and emotions," said Sean Buckley, who plays Laurie. "Natural and realistic storytelling from our wonderful actors creates a connection between the audience members and the dynamic characters of this tragic yet heartwarming wartime story."
The cast and crew have spent the months putting together the show, with a set featuring a wide array of furniture, a working fireplace, and walls that roll on and off, to create the illusion of changing rooms. 
"We worked hard to find a happy medium between the simpler sets we used to do, and the highly complicated and confusing sets of last year's shows." set designer Lia Numerosi said. "I think we've pulled it off wonderfully. We were able to focus on the little details, but we still have something I think will blow the audience away."
Seniors Lia Numerosi and Finn Wall designed the sets together, working with a skilled tech team to achieve their vision, and assisted by professional technical theater director Dawn Sarrouf. But it isn't just the sets – the show also features a wide array of detailed props, designed by junior Cassidy Pontes and sophomore Esme Sarrouf, and a dozen period-accurate costumes for the cast designed by the talented costume team, and lead by junior Chloe Young.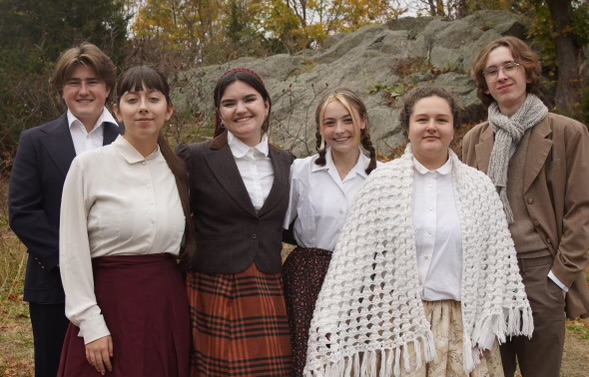 "The book is set in the 1860's during Civil War-era Massachusetts. So, we aimed for period accuracy, and I think it went well." said Young. "We had to work with what we had in the costume closet, and many people brought in parts for their own costumes. I think that in the end we got costumes that work with the time and also suit the characters and actors. I had so much fun working with my fellow costumers and the cast members. Getting to make my favorite book come to life with new friends was amazing. It's an experience I will remember for years to come."
The entire cast and crew is very proud of what they have achieved, coming after school multiple times a week and staying until dark, and in the week leading up to the show, staying 7 hours afterschool and coming in on both weekend days. In particular, theater arts teacher and director of the theater program Ms. Jessica Ruggles is very happy with the show, and proud of her students. 
"This has been such a fun process. Little Women has been a favorite story of mine since elementary school," said Ruggles. "Getting to bring it to life with this group of students has been amazing."
The show is appropriate for audiences of all ages, and children are encouraged to come to the matinee performance at 1pm on Saturday, where the cast will be doing a meet-and-greet. 
Performances of Little Women will be running on Thursday, November 16th at 7:00pm, Friday, November 17th at 7:00 pm, and Saturday, November 18th at 1:00 pm (Matinee) and 7:00 pm. 
IF YOU GO:
What: Little Women
When: Thursday and Friday November 16th and 17th, at 7:00 pm
Saturday November 18th, at 1pm and 7pm.
Where: Gloucester High School Auditorium
Cost: $15 general admission / $10 for students, staff, and senior citizens
Tickets are sold at the door, and on the Drama Club website for $2 less:
gloucesterhighdrama.blogspot.com