Romeo Theken is Gloucester's new mayor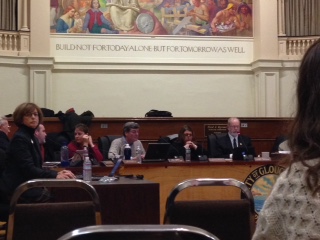 History was made at Thursday night's City Council meeting as Gloucester native, and seven-term City Councilor, Sefatia Romeo Theken was appointed as interim mayor.
"I'm here to work not as your leader, but as your team player," said Romeo Theken after she was chosen.  "Gloucester is moving forward; not backwards."
The 20 minute meeting started with the Councilors formally accepting Carolyn Kirk's resignation.  City Council President Paul McGeary, who had also expressed interest in the interim position,  explained the rules of the election.
The interim mayor must be a member of the City Council. To be considered, he or she has to be seconded by another Councilor. To win the election, the person in consideration needs five votes from other Councilors.
Eight out of nine City Councilors voted for Sefatia Romeo Theken. She was sworn in by City Clerk Linda Lowe.
"I got tears," said resident Jennifer Johnson, a close friend of Romeo Theken. "She actually cares about the city."
Joe Ciolino will replace Romeo Theken on the council. He is to be sworn in next Tuesday.