Fishermen burn the Witches to lead NEC South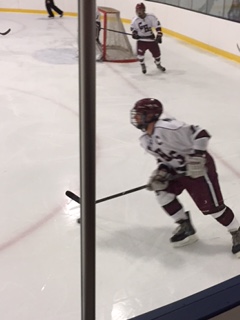 Last night the Gloucester Fishermen hockey team came up with a huge win against Salem – who were previously undefeated before Wednesday night's high scoring game – beating them 11-6. The Fishermen now lead their division with a record of 3-2-1.
It was an all around team effort, with everyone helping to get the win. Even though the Fishermen won the game,  after the first period Gloucester and Salem were tied 1-1. It wasn't till the second period when the Fishermen picked up the pace scored 4 goals while letting in only 1 against in the second.
One person who played an amazing game was Jack Nicastro, who scored a hat-trick last night. Besides Jack there were also others who contributed to the win. Both Alex Enes and Liam Lyons had a 4 point night having two goals and two assists each. Jared Favazza had a goal and an assist. Ethan Brennan and Lucas Harris both had a goal, and Eddie Mahoney had a goal and two assists.
The Fishermen season still looks promising. The team is looking forward to another big game against Winthrop this Saturday January 10, at 6:30p.m. in Winthrop.