Fall in love with Lizzy McAlpine's "five seconds flat"
O'Maley Middle School student Scarlett Berge reviews "five seconds flat" as part of The Gillnetter's Young Journalist Series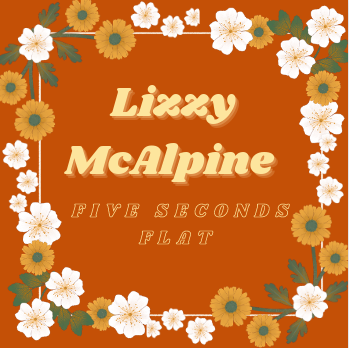 Lizzy McAlpine's "five seconds flat" (stylized in all lowercase), released April 8, 2022, is a masterfully crafted alternative indie-pop album with an essence of rock cleverly woven in. From nostalgic piano ballad "chemtrails" to the gritty "firearm," these songs hit the mark, to say the least. Lizzy utilizes unique chord progressions and her wide range to convey her beauteous lyrics. If you're looking for a moody, heartfelt collection of tunes—or need some achingly relatable words to cry to—this is an album for you.
Philadelphia native and Berklee School of Music graduate, McAlpine, upon being interviewed, expressed her search to find her own distinctive sound. "five seconds flat," a raging commercial success, takes a wildly different approach in both its writing and engineering than her debut folk album "Give Me A Minute," released in 2020.
Two years later, the singer-songwriter throws her avid fans a curveball, hitting them with a more alternative and rock-heavy tone. Given that the album's lyrics primarily center around McAlpine's personal love experiences, it's what people are referring to as "one of the most compelling breakup albums of the year". For instance, from "what a shame": "It's okay to be rough / I'm a little bit tougher than all of your other girlfriends / But you're not allowed / She has got you under lock and chain / Too late to let her down."
In addition to her recorded music, McAlpine has released a unique short film pertaining to the album (about 30 minutes in length), to enhance her lyrics by depicting the stories visually. Titled "Five Seconds Flat: The Film," this "enthralling melodrama", contains highlight songs such as reckless driving, doomsday, and hate to be lame, co-starring Elle Chapman, Diego Chiat, and Ben Weinswig. Directed by Gus Black, the melancholy piece of film-work—wrought with metaphor and hints of trauma—is sure to give the viewer chills. It is the perfect pairing to her somewhat idiosyncratic fourteen-song album.
Throughout the film, we see McAlpine perfectly execute the main role, navigating the highs and lows of love and life. She uses specific motifs to establish the centerpiece of it all: the message that heartbreak is comparable to experiencing a death of sorts. Having lost her father two years prior to the release, McAlpine's personal experiences certainly come into focus throughout the cinematic portrayal.
Producer and multi-instrumentalist Philip Etherington Ehren played a significant role in bringing McAlpine's visions to life when creating the album. A former classmate at Berklee, his camaraderie with McAlpine led to their collaboration, resulting in beautifully seamless musical engineering. Additionally, McAlpine chose to blend her own dulcet vocals with other artists' for select songs, including the incredible Jacob Collier, Laura Elliot, Ben Kessler, and Finneas. As the artists worked together to expand their creativity and rise to the occasion, it became clear that this album was a labor of love. These songs have gripped listeners everywhere—giving them an overall feeling of understanding and hope.
One song in particular, though, has taken the internet by storm: unless you're living under a rock, I'm sure you've heard of "ceilings," the heart-wrenching ballad that serves as a soundtrack to the dramatic and emotional lip-synced scenes trending all over social media. This trend has been recreated by internet influencers and small creators alike, giving people a chance to be creative with their interpretations. From sprinting along the beach in wedding gowns to running through deserted parking lots in the midst of a rain-storm, people have brought this trend to the next level.
These videos are meant to be dramatic and movie-like, and McAlpine's lyrics and instruments are a perfect match for that theme: "But it's not real / And you don't exist / And I can't recall the last time I was kissed / It hits me in the car / And it feels like the ending of a movie I've seen before."
All in all, I found this album to be quite alluring—between the meaningful lyrics and the gorgeous melodies, it is one of my favorites, and one I would highly recommend.