Blood drive reminds us all to "B positive"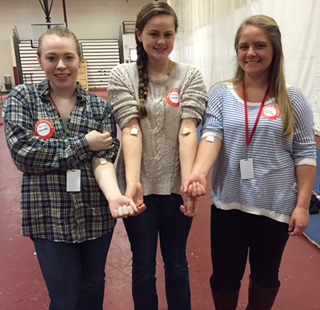 The annual blood drive at Gloucester High School went off without a hitch, with a total of more than 60 students and faculty members donating.
The blood donated is used to study diseases and be stored for future use. "The blood here ships to Boston area hospitals," said Red Cross nurse Natalie Pettijohn . "It can go to anyone who is sick to car crash and burn victims."
The whole process of donating blood can take anywhere from thirty to forty five minutes and all blood types are accepted, as long as the donor does not have any form of disease and meets the height and weight requirements.
The reasons why people give blood are on a very wide spectrum. "I donated because I have a lot of diseases in my family," stated sophomore Sara Corchado. "To know my blood can help someone is a good feeling."
"I feel great." said senior Brianna Sutherland after donating blood. "I feel sleepy, but I feel like a good person."
According to Pettijohn, it's a good thing to do and it gives donors a good feeling to know that their blood could potentially go to help save someone's life.
"I've always done it [donated blood], I started in college. It's a rush. I hate needles so I can conquer my fear,"said  guidance counselor Matt Duncan. "I also do it for the free Cheez-its."