GHS students featured in Marblehead Arts Association exhibit
"Through The Student's Lens" is an art exhibit being featured at the Marblehead Arts Association. The exhibition is focused on how seven student photographers from five local North Shore High Schools use photography to present their view of the world around them and art.
Gloucester High Schools seniors Emma Allen, Jenna Church, Caleb DeCoste, Aidan Kull, Brady Sullivan, Vanessa Torres, and Drew Douglas White all have their photography featured in this exhibit. 
"It was nerve-racking at first knowing that it would be up for the public to see, but once I saw it up, I was very proud to call it mine and display it," said Emma Allen. "Photography has been a favorite hobby of mine for years and I love being able to share it with others". 
Vanessa Torres has been taking sports photos since her freshmen year.  Her photo on exhibit, taken during the first kickoff of the season for the Gloucester Fishermen, earned an honorable mention in the Scholastic Art and Writing Awards.
"It's an honor to be featured in the exhibit," Torres said. "I've spent a long time taking sports photos, but this is one of my favorite pieces of work."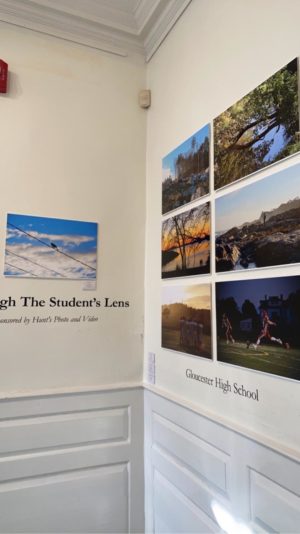 The exhibit is open to the public from now until April 16, 2023. This exhibit is being sponsored by Hunt's Photo & Video and they donated all of the printing of images. This is a beautiful and exciting opportunity for these seven Gloucester High School students to showcase their work among 35 local student photographers. 
IF YOU GO: 
What: "Through The Student's Lens"
Where: Marblehead Arts Association, 8 Hooper St, Marblehead, MA
When:  Now through April 16th