Oscar nominees lack diversity, again
The 95th Academy Awards, set to take place this Sunday, aim to recognize the greatest achievements in film of 2022. Unfortunately, this year's slate of nominees, announced on January 25, largely fail to recognize the work of many marginalized groups—particularly black and female artists.
To the surprise of few, "Everything Everywhere all at Once" led the pack, netting 11 nominations across ten categories (both Jamie Lee Curtis and Stephanie Hsu picked up nods for Best Supporting Actress). Coming off the heels of 2019's "Parasite" as an Asian-led film beloved by Western critics, the film is among the frontrunners in the races for Best Picture and Best Actress. 
However, the diversity among nominees largely begins and ends there. After several years in which a particularly socially-conscious Academy recognized many non-white and non-male artists, the newest pool of nominees marks a disappointing return to homogeneity.
The two previous ceremonies saw women winning Best Director for the second and third times ever (Chloé Zhao for "Nomadland" and Jane Campion for "The Power of Dog," respectively). However, they've been shut out of the category entirely this go around—every nominee is a man. Only one of them (as well as the sole of the ten films nominated for Best Picture) is a person of color: Daniel Kwan for "Everything Everywhere all at Once," although even he shares the ticket with white co-director Daniel Scheinert.
Across all four acting categories, only two black performers picked up nominations: Brian Tyree Henry for Best Supporting Actor, and Angela Bassett for Best Supporting Actress. The more prestigious lead actor and actress categories contain zero black nominees (Cuban actress Ana de Armas did receive a nod there, but it's coated with irony: she was nominated for playing Marilyn Monroe, the epitome of conventional white beauty, in a movie called "Blonde"), with all five men up for Best Actor are white.
Furthermore, Viola Davis, one of the most lauded dramatic talents of the century, was not nominated for Best Actress. Despite being in the running for almost every other major acting accolade—including a Golden Globe, a Screen Actors Guild Award, and a BAFTA—Davis' performance in "The Woman King" went unnoticed by the Academy. 
Instead, indie film star Andrea Riseborough was put up for contention in what was widely viewed as Davis' spot. Riseborough starred as a recovering drug addict in "To Leslie," which became one of the lowest-grossing Oscar-nominated movies of all time (it garnered just $27,000 at the box office). Her nomination was buoyed by an intense, star-studded campaign: Jennifer Aniston, Kate Winslet, and Amy Adams all lobbied for Riseborough. Following the ire garnered among fans and critics, the Academy opened an unprecedented investigation into "a review of the campaign procedures among this year's nominees."
As other awards shows have made strides to promote diversity, this year's slate of nominees, the group of up for golden statues on Sunday stands out even more starkly. Most notably, the Grammys—which has had its fair share of accusations of racial bias recently—gave three of its four top awards this year to black artists. It's time that the Oscars recognize the monumental contributions made by all demographics to the film industry, and follow suit.
Leave a Comment
About the Writer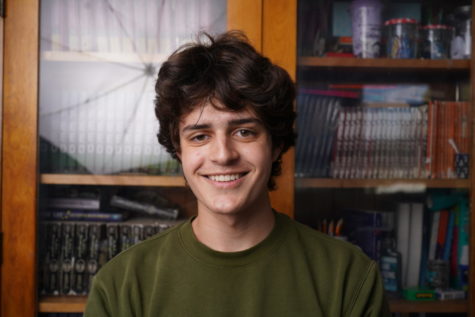 BEN CARPENTER, Arts & Culture Editor
Ben is a senior at GHS and is returning to the Gillnetter this year. He enjoys running, listening to music, and doing crosswords. When he finds himself...