Marissa Numerosi's Passion for Pottery
Every artist has a favorite creative outlet, and for GHS senior Marissa Numerosi, that outlet is pottery.
Numerosi began working with clay in her freshman year, and by sophomore year, she was taking two clay classes per day. She found that pottery helped her mentally and used it as an escape to feel free and creative.
"Sophomore year is when I realized I had a passion for clayworks," Numerosi said. "It is therapeutic for me." 
Last school year, Numerosi decided to create an account on Instagram called @marissas.pots, because she was excited to share items that she created. When she noticed that people started following her, she got shy and deleted some pictures but she kept working on art and posting more on Instagram. 
"I started the account to keep all my stuff in one place, I didn't expect people to follow it," Numerosi said. "It's kind of like a portfolio."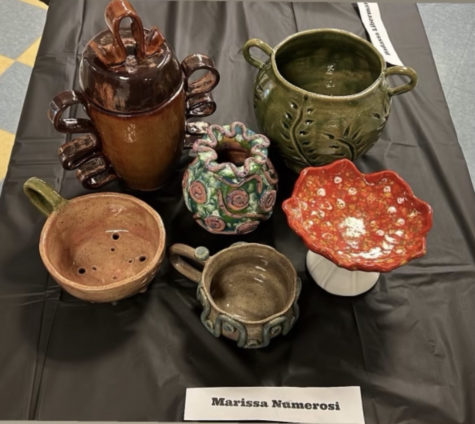 She has now started to sell some of her items on her Instagram as well, including holiday ceramics, such as stockings, Christmas trees, ornaments, candy canes, and snowflakes. These are all listed on her Instagram and she has even sold some already. 
Ms. Duncan, the ceramics teacher here at GHS, starts the beginners class with the pinching method, as as students progress, they learn more techniques.
"My go-to technique is coiling," Numerosi said. "I find it takes me the least amount of time and is the most precise. You get a piece of clay and roll it like a sausage and then you continue to stack the pieces on top of each other and smooth it out as you go. Sometimes I do a mix of pinching and coiling. Pinching gets the bulk of it done then I can add on to the rest."
Before she makes anything, Numerosi sketches out the idea in her sketchbook and writes each technique she will use. 
"I like using the color burst glaze with little crystals that melt in the kiln that make little different spots of colors, she said." "That is my favorite type. No two pots will turn out the exact same."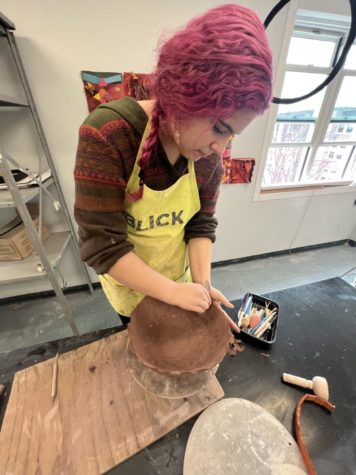 When she has gone through all of her steps, she then photographs her work and shares it with her followers. 
Numerosi enjoys adding a hippie energy to her pottery. She loves cottage-core and colorful mushrooms, fairies, and butterfly themes. She likes having both neutral colored pieces and very colorful pieces because they both reflect her personality. This aspect of her pottery is important because she can really express herself and show her audience a piece of her. 
"It's calming," she said. "I feel like it's an expression of my style. I like to add flowers and vines, garden kind of things, and fairies. I think it has to do with my clothing style, because I like to wear things with mushrooms and flowers and bright colors." 
Numerosi is interested in pursuing a career in art therapy, and one day hopes to open her own clay therapy studio.
"Children are more able to tell you things when they are making things with their hands," Numerosi said. "Even just talking with my friends when doing clay, it helps a lot." 
In recognition of her outstanding performance in art classes Numerosi was recommended by her art teacher for the National Arts Honors Society.
For those interested in owning a piece of Numerosi's art, or commissioning a piece of custom art, you can directly message her on Instagram.