GHS Theater takes Shakespeare to METG DramaFest
On Saturday, the GHS Theater Program performed Shakespeare's "A Midsummer Night's Dream" at the METG Theater Celebration Festival. Also known as "DramaFest", the celebration is an annual competition that was held at Algonquin Regional High School this year. 6 schools performed their plays and got the chance to workshop them with their peers.
"It was great to spend a full day with other high school drama students," junior Finn Wall said. "The environment was very open, it made me feel a lot better as a whole, and it made me very proud of what we put together. The opportunity to perform and workshop our play was very helpful, and being able to compare our work to the work of other high school students put everything into perspective. We tend to judge ourselves too harshly, so the positivity was appreciated."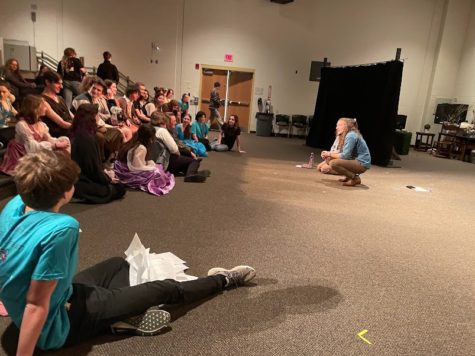 The club won four awards, including an award for costumes, given to Malia Andrews, an award for lighting, given to Treely Dowd, and two acting awards, given to Willow Barry for her performance as Puck, and Elijah Sarrouf, for his performance as Bottom.
Typically the fall play is taken to DramaFest, but the length of "Clue: On Stage" and the copyright contract did not allow for it to be performed there, as all plays must be 40 minutes or under.
The club was able to watch Hudson perform "The Yellow Boat," St. Sebastian's perform "Grim Tidings," Newman School perform "Gathering Blue," and Algonquin Regional perform "Tartuffe."