Swatting hoax hits Gloucester High School
Yesterday, Gloucester police received an anonymous call that there was an armed intruder present at Gloucester High School. The police were at the school within minutes, and officers began searching the building and grounds while students remained sheltered in place.
After about half an hour of shelter in place, it was determined that the threat was one of several recent "swatting" incidents across Massachusetts, and there was no danger present. Since Monday, 31 schools throughout the state have received similar hoax reports of armed intruders or bomb threats. The FBI and Massachusetts State Police are investigating the threats, but have not commented on if the incidents are connected.  
Students received the announcement at 12:25, during the 5th block of the day. All students were instructed to "shelter in place"  until further notice, but no further information over the announcements was given. While the students in the actual classrooms were able to hear the announcements, students in the cafeteria were unable to make out what the loudspeaker was saying. 
Students trying to leave the cafeteria were rushed back inside, told there was a lockdown, then instructed to hide in corners, get down, and stay silent. Confusion ensued, and several students attempted to flee the building, fearing for their safety. After about 10 minutes, students in the cafeteria were moved to the auditorium.
Several students have vocalized disappointment that the school had not informed them of the string of threats. As a result, most students lacked context for the incident.  
"I think most people would've been less scared, because when you hear about a threat like that, you're thinking 'I could die,'" said Mikey Merchant, a senior who was in the cafeteria during the incident. "If we know that this was one threat in a string of threats that nothing came from, it would've been more reassuring."
"I didn't know about these fake threats before this happened,"  Maddie Tomich, a junior who was also in the cafeteria and ran away during the incident said. "I was heading to the nurse when lunch was ending, and a teacher came in and said 'everyone get down, get in the corner, get below the windows'. I think everyone was assuming it was real. I was breaking down crying, and everyone was just sitting there, waiting. My boyfriend and I were by the door, so we ran into the woods near the school and we just hid there for a second. I was calling my mom and telling her 'if this is the last time I talk to you, I love you.' We got back to my house and there was a tweet going around that there was a guy with an AR-15 at the school. I thought I had just escaped a school shooting." 
"
We understand that people will have a wide range of reactions to yesterday's incident. Everyone reacts to stressful situations in different ways and there is no right or wrong way."
— Principal James Cook
Students in the classrooms had a much smoother time following protocol. Willow Barry, a junior, was in French class when the incident occurred. 
"It was stressful," Barry said. "But Ms. Finacey was very calm about it. She just had us close the door and barricade it, gave us each a weapon of opportunity, and had us sit quietly in the back corner." 
"Ms Cafasso handled it seriously, but she didn't make us stressed at all," April Smith said. "I was more stressed after the fact when I learned what happened. I was thinking it was a medical situation and the hallways needed to be cleared."
Ashlee Scola was in the cafeteria during the shelter in place. "Mr. and Mrs. Goulart did a fantastic job, especially not hearing as much information as they needed to," Scola said. "As soon as we got more information, action was taken right away, they were able to keep everyone quiet, and when they had something to share with us they were able to get attention quickly."
Both uniformed and plain clothes police remained on the scene as the regular class schedule resumed. Counselors were available in the school guidance room for students who need to talk to someone about the incident. 
"It was an unsettling and scary situation for all of us," said GHS Principal James Cook. "At the same time, staff and students did  a great job in responding quickly and following our shelter in place procedures. We understand that people will have a wide range of reactions to yesterday's incident. Everyone reacts to stressful situations in different ways and there is no right or wrong way."
Leave a Comment
About the Contributor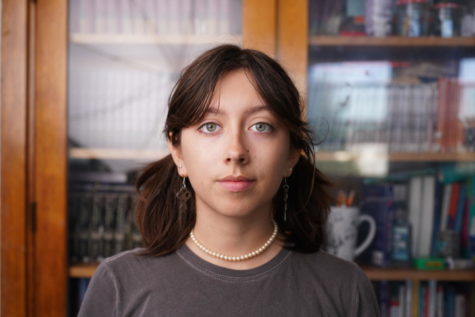 AURELIA HARRISON, Features & Opinion Editor
Aurelia Harrison is a junior at GHS, and in their second-year writing for the Gillnetter. They enjoy writing (obviously), music, reading, and are an avid...