Old School Album Review: "Rumours"
If there is an album more successful and more essential to the genre of 70s pop rock than "Rumours", by Fleetwood Mac, I have yet to encounter it. In my own childhood, and in many of my friends', "Rumours" was a classic in car rides, in jam sessions, and in anything that involved good music and a good time. This enduring popularity and importance speaks to just how iconic this album is, even if its stardom is difficult, nay impossible, to quantify. But who cares –  I'll try anyway.
Released in 1977,  "Rumours" has sold 40 million copies worldwide and is certified 20x Platinum in the USA alone. It consistently appears in the "top 10 album" lists of music aficionados and casual listeners alike, and its songs have starred in everything from Guardians of the Galaxy to Forrest Gump. Though the album was extremely well-received by the public, and is still venerated today, the road to its release was, to say the least, a rocky one.
Fleetwood Mac is famous for their iconic hits and masterful musicality, but they are equally infamous for their legendary skill in cheating on each other. At the band's conception, the group was made up of two couples – Lindsey Buckingham and Stevie Nicks, and the McVies – and Mick Fleetwood, whose wife, Jenny Boyd, was not in the band but was a friendly face around the studio in the early days. Unfortunately, her face got a little too friendly, and it came out that she was having an affair with one of the band's founding members, Bob Weston. Weston was fired, and cites that entanglement as "the most expensive affair I've ever had in my life." Mick Fleetwood didn't really have a lot of room to criticize – his long-running affair with Stevie Nicks happened while he was still married to Boyd, and when that ended, he slid into the proverbial DMs of one of Nicks' best friends. Christine McVie divorced John in part because of tension caused by the close proximity of the tour, and in part because she had struck up an affair with the band's lighting director. 
Yikes.
All this drama made the band members pretty bitter, and the journalists of the time even more euphoric. Scandalmongers thrilled at the opportunity to stir up some trouble for Fleetwood Mac, giving the band inspiration for the famed album's name: "Rumours". 
"Second Hand News" is our introduction to this album, and boy does it prepare us for the album well. Of course, the first song on "Rumours", written by Lindsey Buckingham, is about… yep, you guessed it, breakups, rebounds, and complicated sexual entanglement! An album opener's greater function is to set the mood and its audience's expectations, and "Second Hand News" does that to a tee. Buckingham wrote the song about his bandmate and ex-girlfriend Stevie Nicks, in the middle of a particularly painful split. In retrospect, it is incredible that Fleetwood Mac had any time, amid hooking up and breaking up with each other, to write music.
It's rare to find a song that is both good and largely made up of the lyric "baow", but Fleetwood Mac manages to make it work. The goofy but endlessly catchy choruses – "baow baow baow bow ba-buh-baow", etc – contrast the melancholic verses, but are certainly more in line with the sunny musicality of the track. On paper, it seems like a track better left in the vault for when someone gets short on money. In practice, it's satisfying, rhythmic, and rife with lyrical and musical juxtaposition.
The song's verses are frank, honest messages to an ex-lover, aside from one particular lyric: "One thing I think you should know / I ain't gonna miss you when you go". The assertion that one could date Stevie Nicks and not mourn the ending seems highly unlikely, though this might be biased reporting on my part.
Buckingham's rhythm guitar is equally percussive as it is melodic, working in tandem with the drums and the relatively simple bassline. His vocals are twangy and full, and the lead guitar provides splashes of color to the song's landscape.  The track features rich, layered harmony typical to any good Fleetwood Mac tune, and the prominence of Nicks' backing vocals feels painfully ironic.
The next track, "Dreams", needs no introduction. With over 1.1 billion streams on Spotify, everyone and their mother has heard this classic track that only Stevie Nicks could've written. 
The song's silky, ethereal vibe marks the song as a Nicks classic – its strategic harmony, melodic complexity, and are so unmistakably hers, it hurts. The song is deceptively simple: a repetition of G and F chords, no bridge, no special tuning, just pure, rich instrumental and sheer vocal prowess. The song is a living thing: drum and bass heartbeat, run on the pumping blood of Stevie Nicks' voice.
Nicks wrote the song at a chaotic time for the band – they were in the thick of recording the album when their producer told Stevie she wasn't needed that day and could take one of the studio's rooms to let off some creative steam. She sat down and, in one sitting, wrote "Dreams". 
The song is one of many on the album about Nicks' and Buckingham's relationship, from each other, and to each other. However, Nicks' style differs vastly from Buckingham's – where Buckingham is hard, Nicks is soft. Buckingham brings the anger, and Nicks meets him with melancholy. 
"I'm the chiffony chick who believes in fairies and angels, and Lindsey is a hardcore guy, it comes out differently," Nicks said in her 2013 liner notes for the song. "Lindsey is saying go ahead and date other men and go live your crappy life, and [I'm] singing about the rain washing you clean. We were coming at it from opposite angles, but we were really saying the same exact thing."
The next track, "Never Going Back Again", is undoubtedly the simplest on the album. I am deeply biased in my evaluation of this song: its harmonies echo through memories of my upbringing, on car radios, on my first iPod, and all throughout the rooms of our house. Many a night, I would sit by my dad and sing along as he magically managed to make one guitar sound like two. As a child, I was shocked to learn that the entire song is played on one guitar, and even more shocked to learn that the song was written by Linsdey Buckingham and not my guitar-playing father.
One of the last songs written for "Rumours", Buckingham has confirmed it as being a retrospective on his and Nicks' relationship, and his decision to move forward to new love. Its simplicity, poignancy, and instrumentation, and the gently swelling harmonies peppered throughout make it feel special, like a captured moment in time to sit with and enjoy.
"Don't Stop" is a slightly less sophisticated, slightly less complex player on this album's team, but it provides a note of optimism amidst all the drama and biting remarks and thinly-veiled allusions to marital infidelity. 
Speaking of marital infidelity, "Don't Stop" was the campaign theme song of President Bill Clinton when he ran for office in 1992. He famously used this song as the theme for his presidential run because he figured it would appeal to his generation, the Baby Boomers.
The song was a skillful choice on Clinton's part – as far as campaign songs go, it's hard to find one more catchy and upbeat than "Don't Stop." It's the most optimistic track from Christine McVie on the album, though admittedly the bar is on the floor there. A common misconception about the song is that Lindsey Buckingham sings it alone, which is a testament to how well his and Christine's voices blend together. It's bouncy, sunny, and bound to get stuck in your head for days on end.
"Don't stop thinking about tomorrow" is sort of an ironic lyric to be associated with Bill Clinton – after all, in the events preceding his impeachment trial, the future was famously not on his mind.
"Go Your Own Way" is the rock n roll response to "Dreams", literally – Buckingham cannot seem to write a song on this album that isn't about Stevie Nicks. 
As far as lead singles go, there aren't many better and more representative of the album than this one. The drum and guitar lines are pure testament to the skill of Mick Fleetwood and Lindsey Buckingham, and are widely bemoaned by musicians as being unreasonably difficult to learn. According to producer Ken Caillat, to get the effect he wanted, he cut together six different pieces of guitar solo to make the final product, a fact that becomes increasingly incredible the more you listen to the song.
This song epitomizes my reasoning for why I believe this album's context is so important to the listening experience. The emotion in Buckingham's vocals become devastating when one understands the place he's singing it from. Underneath the anger and slanderous accusation, the song is vulnerable. Peeling back the harmonies, the insults, and the electric guitar, one finds something beautiful: real, genuine hurt.
It's difficult to write about the next song, "Songbird". This is because it's physically difficult, for me at least, to listen to this song at all, not to mention in the wake of Christine McVie's passing.
In the musical world, it's fairly commonplace for an album to have one slow, heart-wrenching piano ballad – it happens in the world of rock, of pop, of soul, even musical theater is subject to this trope.
But there may never be a better, more beautiful, and more impactful one than "Songbird", written, played, and sung by Christine McVie.
The origin story behind this song seems incredibly theatrical, and incredibly in-character for McVie. She woke up in the middle of the night and wrote it, alone, at a time when there was no one else to hear and remember it with her. So, rather than risk losing it to sleep, she stayed awake the entire night so she could play it for their producer the next morning. 
McVie always maintained that the song simply arrived to her, and that it wasn't about anyone in particular. "It's universal," she said in a 2017 interview. "It's about you and nobody else. It's about you and everybody else. That's how I like to write songs."
Ken Caillat, the producer, fell in love with the song and proposed that she record it in a concert hall, solo. In the Zellerbach auditorium, McVie was set up with microphones, a spotlight, and grand piano with a vase of flowers set atop it. There, she recorded it in one take.
There are a million things I could say about "Songbird". In fact, the rest of this article could be about "Songbird". Though that possibility is tempting, I'll restrain myself. The fact of the matter is, it doesn't matter what I write here about "Songbird". To really understand its reputation as an emotional pipe bomb, you need to find a moment alone, and listen to it yourself.
"The Chain" is one of the very few songs I consider to be perfect, and for good reason. The song's assembly process, from cutting and splicing tracks to weaving in bits of rejected songs, was certainly the most complicated of any track on the album. On "Rumours", it is the only song with writing credits attributed to all five members of the band.
It's easy to understand how this song has become the soundtrack for so many iconic movie fight scenes. It feels like a battle – the instruments rising and building deliberately forward, the drum a marching beat over the hill, culminating in the final showdown: the bridge. The bridge of "The Chain" is, and I don't say this lightly, one of the most epic moments in music history. The instruments go quiet, the bass takes center stage for a tense moment before the song explodes into rock n' roll mania, bass riff holding steady underneath it all. 
The song fades out in a musical frenzy, the vocalists wailing over and over, "chains keep us together". "Chains" are an incredibly hard-hitting metaphor for Fleetwood Mac: a band "kept together" by fame, by love, by vendetta and ambition and complication.
"You Make Lovin' Fun" is a song that can be described in many ways, but perhaps most aptly in a single word: groovy. 
This song is a rock n' roll take on funk, incorporating many of its classic elements – e-piano, angelic backing vocals, synthesized bass – but with electric guitar and precise, steady drumming woven in to maintain its rock feel. These funk elements bring something new and welcome to the sound of the album, but still fit within the musical world the album has established.
Though the song sounds sunny, its creation was apparently fraught with peril. Buckingham and Nicks, ever the drama queens, were actively fighting during the actual recording process. According to producer Ken Caillat, the session was peppered with "vicious name-calling – 'you motherf****r' this, 'you f***ing bastard' that. Back and forth it went. The tape would start rolling and they'd sing, 'Yooooooou make loving fun,' just beautiful, two little angels. The tape would stop and they'd be calling each other names again. They didn't miss a beat."
One of my personal favorite pieces of trivia about this song: Christine McVie wrote it about the man she was cheating on John with, amid a bout of marital conflict. To avoid a fight, McVie told him that she'd written it about her dog. Nice save.
"I Don't Wanna Know" is the second Stevie Nicks song on "Rumours". It's my favorite song on the album (most of the time), and although its instrumentation is strong, the gold of the song is in the singing.
Buckingham and Nicks share lead vocals, harmonizing over each other the whole way through. One can only imagine how awkward that must have been for them. It was a good call on the part of the song's producer – their voices fit together seamlessly, their sounds cohesive and distinct all at once. 
A lesser band would've built an album around this song – I admit, I would. But surprisingly, this song was an afterthought for the album after the producer decided that the original track, "Silver Springs", was too long and too gloomy for the album. The band offered to put "I Don't Wanna Know" on the album instead of "Silver Springs", since they were both written by Nicks. She agreed, though she was extremely upset. "Silver Springs" eventually got its moment in the spotlight, as it was released on later versions of the album as a bonus track.
"Oh Daddy" is the least popular song on the album, and often dubbed "the only skip on Rumours". I wholeheartedly disagree with that assessment, though I tend to be biased in Christine McVie's favor in most everything. 
Another lyrical powerhouse written by Christine McVie, the song details a co-dependent relationship, the speaker a reliant and insecure lover to someone more confident and powerful than herself. McVie cites it as being semi-personal, though the man the song is about changes depending on who you ask – answers range from Mick Fleetwood to the band's lighting director.
The track is beautifully produced. The grand piano lends a somber contrast to the harmonics of the guitar and the higher bassline, the swelling backing vocals giving a sense of urgency and importance to McVie's confessions. This song risks being overly complicated, in its drastically contrasting instrumental lines, but amazingly, everything fits together. I am of the belief that this song is criminally underrated for how well produced it is.
"Gold Dust Woman" is the record's grand, smoky finale, fading us out with a dramatic musical ebb and flow and leaving the listener in a wildly different location than they started.
The song feels at once like the soundtrack to an old Western showdown, and a stormcloud head approaching on the horizon line. It's certainly the album's darkest track, and an unexpected – though not unwelcome – note to end on. The howling quality of Nicks' vocals and the guitar, the looming feeling of the instrumentals, and the lyrical storytelling make this song legendary, and a fascinating departure from the bright, euphonious rock n roll associated with the band.
In an interview with Spin, Nicks explains her concept for the song: "'Gold Dust Woman' was my kind of symbolic look at somebody going through a bad relationship, doing a lot of drugs, and trying to make it. Trying to live. Trying to get through it." The idea that this song is semi-autobiographical isn't exactly far-fetched. Nicks admits that the woman she describes is her, in a way, and usually cites it as being inspired by "lost girls in the streets" and "groupie-type women who would stand around and give Christine and me dirty looks. But as soon as one of the guys came in the room, they were overcome with smiles."
In typical Stevie Nicks witchy-enchantress fashion, the song was recorded in a dimly-lit room, with Nicks shrouded in a black veil – other members of the band claimed that as the session went on, she appeared "possessed" while singing. Many unconventional instruments and effects were employed in the making of this song, my favorite of which being broken glass. Mick Fleetwood was given a hammer, glass sheets, and a miked room, and was set to work creating sounds for the engineers to mix in later. Truly, a frightening (and awesome) visual.
"Rumours" is both extremely easy and extremely hard to write about. On the one hand, it's musically rich and incredibly easy to find information on. On the other hand, because of its long life and critical acclaim, the sheer amount of backstory, context, and fun trivia to be explored about it is, in a word, daunting. It's one of my favorite things about it: the beauty of the album is that it is perhaps as interesting in terms of history as it is in terms of the music. 
I couldn't ask for a better record to grow up on.
View Comments (1)
About the Contributors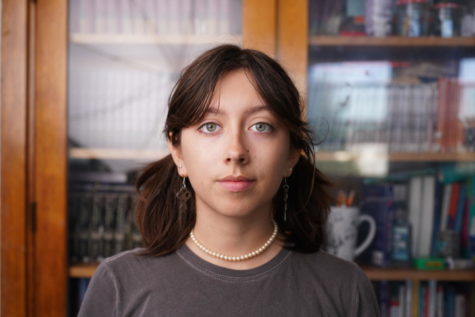 AURELIA HARRISON, Features & Opinion Editor
Aurelia Harrison is a junior at GHS, and in their second-year writing for the Gillnetter. They enjoy writing (obviously), music, reading, and are an avid...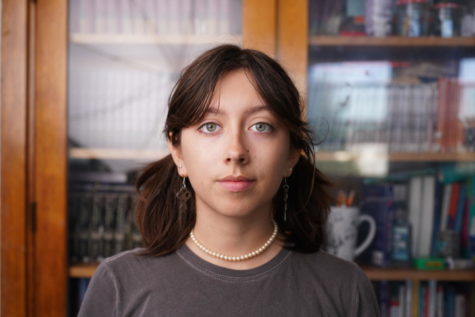 AURELIA HARRISON, Features & Opinion Editor
Aurelia Harrison is a junior at GHS, and in their second-year writing for the Gillnetter. They enjoy writing (obviously), music, reading, and are an avid...