GHS hosts National Arts Honors Society Induction
Tomorrow night, GHS will induct its first group of students into the National Art Honor Society (NAHS). The induction ceremony, which will be held in the GHS auditorium, will feature special guest speaker Salem State University Art and Design professor Haig Demarjian.
Art teacher Lorrinda Cerrutti, who organized the creation of the GHS chapter, hopes that the NAHS will allow students to showcase their talents in visual arts.
"It's a national opportunity to recognize excellence in the area of visual arts," Cerrutti said. "The high school gets recognized especially in the world of athletics, but there are a lot of people who excel in visual arts who deserve to be recognized too. We live in a place where many famous artists not only lived but came here to work. Gloucester and Rockport have such rich histories in the arts."
In order to be eligible for NAHS, students have to maintain an 88 average in all art classes and an 80 average in all other subjects. The NAHS also provides students with resources to further develop and showcase their artistic abilities.
"The NAHS offers scholarships, as well as opportunities to have their artwork be printed in publications," Cerutti said.
In addition to the induction ceremony, the event will host an arts holiday fundraiser, starting at 6:30, and only accepting cash as payment. Art by GHS students will be sold in many forms, including prints, ornaments, ceramic mugs, and even doggie bowls. Proceeds from the art show will help the art department buy new materials, equipment, and will even help to fund field trips. 
"One of the big things we're trying to get back is a trip to the Museum of Modern Art in New York, which is really expensive," Cerrutti said. "We also just don't have enough materials for all of the students in visual arts classes."
NAHS inductee Annika Nyborg said she is really excited for the opportunity to be a part of the first GHS chapter. 
"I'm really excited," Nyborg said. "I really enjoy working with clay and expressing myself through my art. I put a lot of time into my work, and it feels good to be recognized and appreciated." 
View Comments (2)
About the Contributor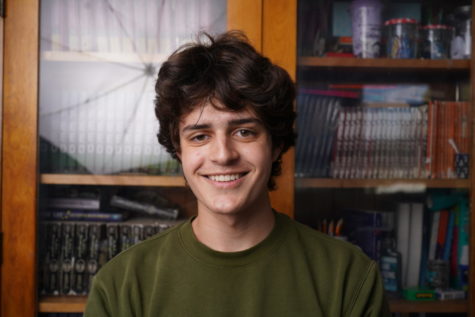 BEN CARPENTER, Arts & Culture Editor
Ben is a senior at GHS and is returning to the Gillnetter this year. He enjoys running, listening to music, and doing crosswords. When he finds himself...