The results are in: GHS students span political spectrum
With midterm season in full swing, many students at GHS are trying to follow along with political campaigns, election cycles, and national and local issues. But for many students, there is a question- which party fits their interests the most?  This year, the social studies department decided to help students answer this question with a school-wide political test on ISideWith.com
ISideWith.com is an independent political website that features a large number of quizzes designed to help voters understand their beliefs. Students took The Political Party Quiz which featured questions on high profile issues in America: women's rights, guns, healthcare, LGBTQ+ rights, economic standpoints, nuclear energy, foreign policy, education, and more.  
"Our focus is to get the kids a little bit more aware of their civic identity and how they can be a part of their community," GHS teacher Shaun Goulart said. "And we thought a great way to start would be to know exactly where they line up on the political spectrum. We used the ISideWith website because it breaks down modern day politics into 15 categories that are easy to understand."
A total of 435 students anonymously submitted their results – nearly half the student population at GHS. 
The survey found that overall, GHS students tend to lean to the left more on average than leaning right. Of the two major parties, 26.5 percent of students aligned with the Democratic Party, and 11.2 percent aligned with the Republican Party. 
However, this is only part of the story. ISideWith.com also takes into account a handful of third parties- the often forgotten about alternatives to the two majors in the political system. The more popular Green and Libertarian parties were represented, along with the left leaning Transhumanist, Peace and Freedom, and Socialist parties, the right leaning Constitution Party, and the centrist American Solidarity Party. In fact, third parties made up a majority of the students' top parties. Of these, the results were as follows: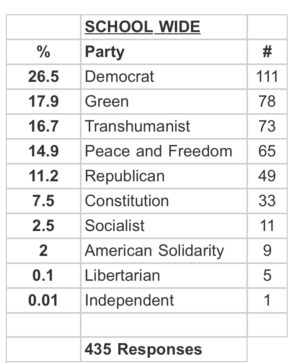 "We want kids to understand that there are more than two political parties," Social Studies Program Leader Richard Francis said. "It's just that those two happen to be the big ones that everyone knows about, and the two that have the money to make themselves known.  We often hear 'I don't like the two candidates.' But, you have options. A lot of people don't understand that. We want the students to understand that."
With members of the senior class able to vote this year, and with all of the current seniors, juniors, and many of the sophomores being able to vote in the 2024 national elections, being able to fully understand one's political beliefs is incredibly important to all students. And with the current midterms electing Maxwell Frost, the first member of Gen-Z in Congress, this is more evident than ever.
"It was interesting to see how all of my stances broke down across the different political parties,"  senior Ben Carpenter said. "it helped me become more informed about which parties I should support based on what matters most to me."