New elementary school, "East Veterans'," causes zoning changes
Last week, the Gloucester School Committee voted on the name of the combined elementary school, christening it "East Veterans' Elementary School," a combination of the two elementary schools' previous names. 
With the new combined elementary school, the zones dividing the K-5 population into different elementary schools are also being revisited. The school committee designed an updated map of who goes to which school, and a list of streets that will be impacted by the re-zoning.
Students who currently attend a certain elementary school will not be forced to transfer, as a five-year transition period has been adopted, where students and families who chose to stay at their current school will be allowed to. Students and families who chose to transfer to their new zone sooner will be allowed to make the transition at the start of the next school year. Any new students will attend the school the re-zoning assigned them.
The new zones are shown in the map below: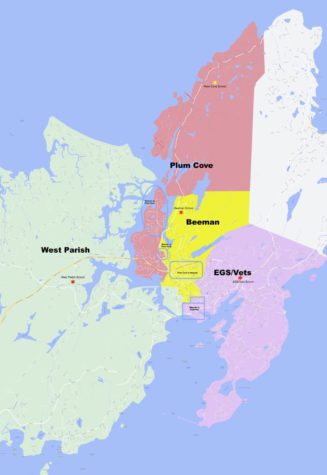 Students who attend West Parish will not be affected by the rezoning. Inhabitants of certain streets will be required to transfer from Beeman to Plum Cove, from Beeman to EGS/Vets, and from Plum Cove to Beeman. The streets that will be affected are listed below.
Beeman to Plum Cove:
Apple Street
Blueberry Lane
Breezy Point Road
Corliss Avenue
Hodgkins Street
Honeysuckle Road
Howard Road
Linden Road
Orchard Way
Patriots Circle
Riverview Road
Rose Lane
Thurston Point
#41+ Veterans Way
Wheeler Street
Doanne Road
Beeman to East Veterans:
Angle Street
Main Street
Middle Street
Riggs Street
#20+ Summer Street
Church Street
Columbia Street
Gould Street
Mansfield Street
Mansfield Court
Mason Court
Mason Street
Pine Street
Proctor Street
#1-#32 School Street
Washington Square
#1-#80 Washington Street
#1-#67 Western Avenue
Plum Cove to Beeman:
Colonial Street
Acacia Street
Baker Street
Carlisle Street
#1-#7 Cherry Street
Gloucester Avenue
Grove Street
Ivy Court
Knowlton Square
Madison Avenue
Madison Court
Madison Square
#91+ Maplewood Avenue
Monroe Court
Mystic Avenue
Poplar Street
Russell Avenue
Springfield Street
#178-235 Washington Street
York Road