Frida Kahlo mural is finished by GHS artist
After weeks of blending and shading, the Frida Kahlo mural located in the first floor stairwell is finally finished. Creation of the mural by Serene Desisto began in 2020 at the start of the pandemic, however production was delayed due to COVID-19. 
The artist, Spike Lorenzana, stepped up to finish the creation. Lorenzana is a senior at GHS and intends to go to art school.  They've also been perfecting their craft since they were a young child. 
Their muse, art teacher Lorrinda Cerrutti, is a fan of Kahlo, so Lorenzana felt it was only fair to do Frida Kahlo justice.
Frida Kahlo was a famed painter known for her self portraits, portraits, and works of art depicting the artifacts and nature of Mexico.  Kahlo is also known for her realist art style and her works depicting her struggles with chronic pain.
"I just wanted to paint Frida Kahlo," said Lorenzana.  "I'm doing it all for Ms. C."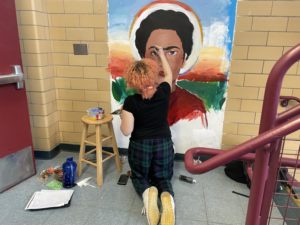 * This story has been updated from an earlier version