O'Maley Drama Club makes a splash during "The Little Mermaid Jr."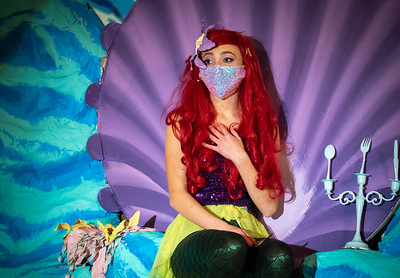 After a 2 year pause on productions, O'Maley Middle School Drama Club made a strong comeback with their most recent musical production of "The Little Mermaid Jr."
Adapted from Hans Christian Andersen's story and Disney's animated classic, this show brings vibrancy and musical flair to the already timeless tale of Ariel the mermaid who longs to be on land and marry her love, Prince Eric, while also getting into troubling situations along the way.
The show featured a colorful set design, with an exceptional cast to bring to life the dream of directors Joanne Horne, Lauren Horne, Leslie Sellers, and Pam Parisi.
The main characters Ariel and Eric were portrayed by Emma Alves and Sean Buckley in Cast X, and Esme Sarrouf and Henry Harrison in Cast Y.
" I loved every bit of it!" said Sarrouf. "It's been an amazing show, and we have a great cast full of amazing people."
Ursula was portrayed by Anaya Brigulio in Cast X and Niava Friday in Cast Y.
"I love the show and I am so happy to be a part of it and get so much support," said Friday of Cast Y. " I'm happy to be here with amazing people and it's been a great experience overall." 
Director Lauren Horne commented on behalf of the cast, complementing how hard everyone has worked to get to this point, saying, "These kids are troopers and I could not be more proud of them. It has been one of the most challenging productions to date. These kids have worked so hard and been great throughout the process of the show I am so proud of them all and I wouldn't trade it for anything in the world." 
The O'Maley Drama Club also thanks the Gloucester Education Foundation (GEF), School Principal Lynne Beatie and the rest of the staff, costume designer Linda Stockman, the O'Maley PTO, GHS Theatre Program, and any others involved with bringing this show to the stage for their continued support of all productions. 
Be sure to stay tuned for O'Maley's next musical production, Finding Nemo Jr.