GHS Track & Field team competes at D4 State Relay meet
On Saturday, January 22, 2022, the GHS Track and Field team traveled to the Reggie Lewis Track and Athletic Center to compete in the MSTCA Division 4 State Relay meet. 
The team was highlighted by two 5th place finishes on the boys' side. Each relay earned 2 points, for a team total of 4 points. 
The High Jump relay team placed 5th and consisted of Aidan Almeida, Max Littman, and Colby Rochford. 
The boys Sprint Medley Relay (SMR) team made up of Almeida, Sam Ashwell, Rochford, and Andrew Coelho. Placing 5th, their time of 3:47.27 means they missed the 2022 New Balance Nationals Indoor qualification mark by 0.28 seconds. They hope to have another chance at the SMR in one of the last few Fully Automatic Timing (FAT) timed races of the season. 
The other boys had good performances in the 4x200m and 4x800m. The 4×200 consisted of Yahir Collado Vasquez, Kayky Barbosa, Bryce Rotchford, and Dylan Smith. Bryce also ran the 4×800 along with teammates Littman, Kyle Clifford, Michael Francis. 
On the girls side, they were led by strong finishes in the 4×400, 4×200, the Shot Put relay, and the Long Jump relay.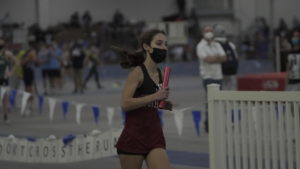 Grace Boucher, Faith Castellucci, Skye Ciolino, and Rose Groleau were in the 4×400. The Shot Put relay was a team of Cameron Carroll, Linda Toromo, and Lauren Sargent. Jenna Smith, Fiona Auguet, Kira Berlin, and Natalie Aiello competed in the 4×200. Aiello, Smith, and Berlin also competed in the Long Jump relay. 
The GHS Track and Field team competes in their next NEC dual meet against NEC North powerhouse, Peabody. Their meet today is at 4pm at Peabody Veterans Memorial High School.