New year, new city administration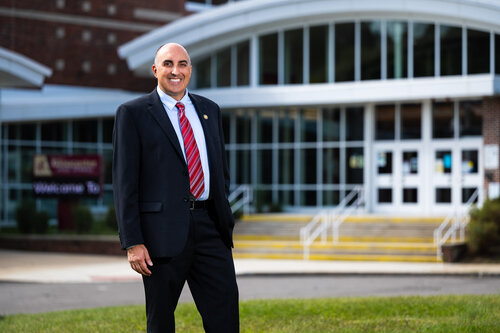 After a big win on election day, Greg Verga was inaugurated as the 60th mayor of Gloucester, along with members of the school committee and city council.
Elected officials and 25 socially distanced guests, mainly Verga's immediate family, attended the event.
Verga delivered his speech, stating how there were only 22 months until the next election which is "precious, little time in which to help the city achieve a reset and affect the changes it so desperately needs."
Verga went on to say his administration has many plans to help make Gloucester a better place to live. "We need action now to meet the challenges the next generation should face," Verga said, prefacing the statement by saying how he views Gloucester through the eyes of his family members both young and old. 
He also said this new city council and administration will have a new sense of respect, professionalism and civility. "Make no mistake, setting this expectation and maintaining this tone is a serious matter for me." 
Verga also went on to say that with the power of Mayor being transferred over, it will be a fresh start for the city with collaboration as the key. " We are going to forge new relationships and fortify existing ones," he said.  "We will build trust, launch partnerships and establish a sense of team." 
He also went on to say that the new Verga Administration will be a place where one would be inspired by and feel closer to their colleagues.
"Starting today, I will formally begin the work of delivering on my campaign promises," Verga said. He also said that he will be completely transparent about what he has to do throughout his time in office. 
Also sworn in were the school committee members, welcoming newcomers such as Bill Melvin and Keith Mineo, while also recognizing previous members Melissa Teixeira Prince, Kathleen Clancy, Laura Wiessen, and Samantha Verga Watson. 
Councilors at large were also sworn in that afternoon, those being Jeff Worthley, Jason Grow, James O'Hara and Tony Gross. Also sworn in was Ward 1 Councilor Scott Memhard, Ward 2 Councilor Tracy O'Neil, Ward 3 Councilor Frank Margiotta, Ward 4 Councilor Valerie Gilman and Ward 5 Councilor Sean Nolan. Gilman has since been elected as President of the council with Nolan as her Vice President. 
Former Mayor Sefatia Romeo Theken took time to look back on her 7 year streak as mayor in a farewell video published on December 27th on Vimeo, highlighting her project Angel Initiative, her economic accomplishments mainly in the fishing industry, and her dedication to bringing  awareness to climate change. 
She also went on to applaud her involvement with the LGTBQ+ community, showcasing the flag raising at City Hall.
Romeo Theken also added how Stacey Boulevard has been further improved, saying  "We did a beautiful, beautiful job."
"Not everything and every decision I make is going to please everyone," Romeo Theken said. "But as long as I try, we start off a little bit every day, and come to an ending that we do, and we succeed…and that's how I leave my journey. I know I am leaving this city better than I ever received it and I know if he [Verga] takes it a little bit at a time he can succeed, just one step at a time."