Thoughtful homemade gifts on a budget
Holiday gift-giving season is underway, and making a gift just makes it that much more special. DIY Christmas gifts are an easy way to make your gift more personal.  Here are 5 homemade gifts that are perfect for anyone.
Mint Sugar Scrub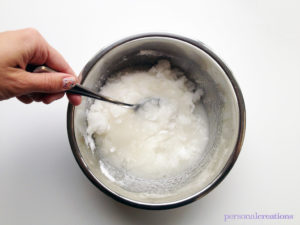 This mint sugar scrub is a perfect gift for anyone who needs a good spa day. All you need are a few ingredients: 
 ½ cup coconut oil

1 ½ – 2 cups sugar

1 tablespoon peppermint extract

1 drop of green food coloring (optional)
Place coconut oil in a bowl and microwave for 15-25 seconds until softened. Then, add 1½ cups sugar to the oils, along with the peppermint extract and green food coloring. Mix until evenly distributed. Put into an airtight container and decorate with twine or ribbon. Now you've got yourself a perfect spa day gift. 
Rose Bath Salts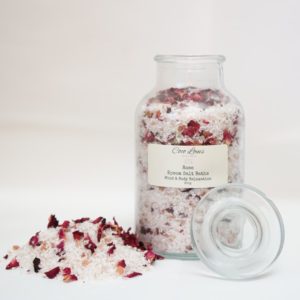 Rose bath salts can elevate any bath and they make a great holiday present. All you need is: 
1 ½ cups of epsom salts

¼ cup pink Himalayan sea salt (or regular sea salt)

1 tablespoon baking soda

¼ cup dried rose buds and petals

10 drops of rose essential oil or rosewater concentrate
You can either buy store-bought dried roses or you can dry your own rose petals. To dry your own, all you have to do is bake them for 10 minutes at 200 degrees Fahrenheit, or microwave them on a paper towel for 30-60 second intervals until their petals are crisp and completely dry. Next, stir together the epsom salts, sea salt, and baking soda. Add drops of rose essential oil or rosewater concentrate, stirring after every 5 drops. Lastly, stir in the dried rose buds and petals and spoon into jars. To use, sprinkle a few spoonfuls into a hot bath, and enjoy the soak.
Cookie Mix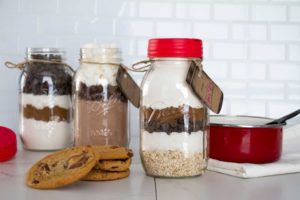 Next on the list is a jarred cookie mix. This cookie mix is so good that you might have to make a second one for yourself. All you need is:
1 ¼ cup all purpose flour

¼ cup granulated sugar

½ tsp. baking soda

½ tsp. kosher salt

⅓ cup packed brown sugar

Any add-ins you would like such as sprinkles, M&M's, chocolate chips, and rice krispies

1 jar

1 stick softened salted butter

1 egg, and finally 1 tsp. Vanilla
Start by whisking the flour, baking soda, and kosher salt together. In a 1-quart jar, layer the flour mixture (divided into thirds and layered between the other ingredients), sprinkles, brown sugar, M&M's, chocolate chips, and crisp rice cereal. To make the cookies, beat one stick of unsalted butter in a large bowl for 1 minute. Add one egg and beat until smooth. Add one teaspoon vanilla and beat until combined. Add the loaded holiday cookie mix and mix until the dough comes together. Scoop 18 spoonfuls of the dough onto parchment paper-lined baking sheets. Chill 15 minutes. Bake at 350 degrees until golden brown for 12-14 minutes. And there you have it – the perfect cookie mix that doubles as the perfect present. 
Snowglobe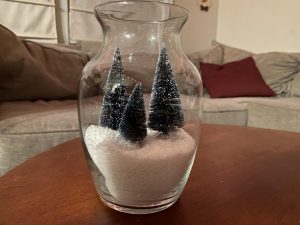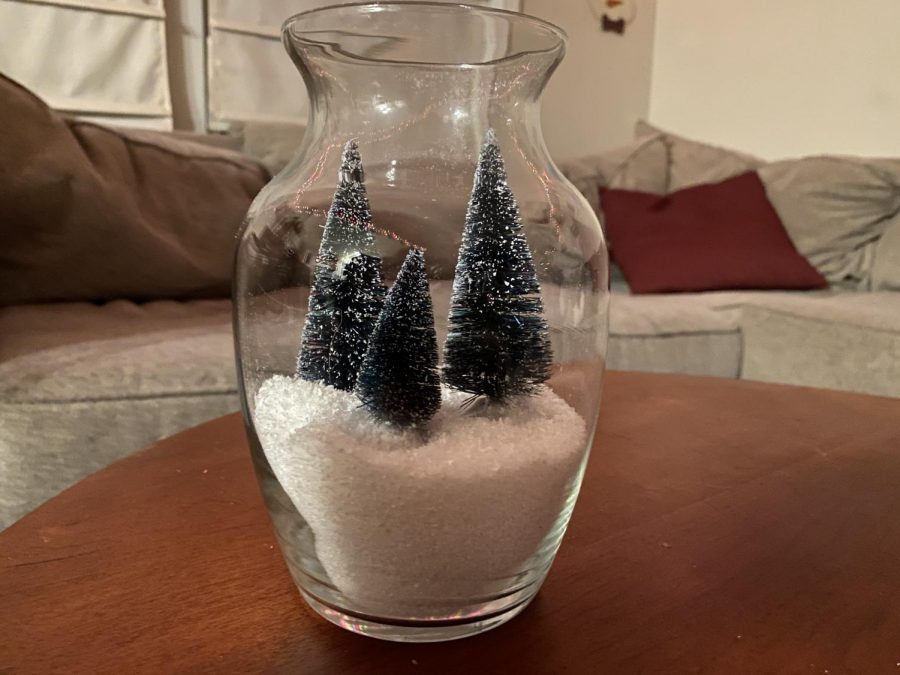 This snowglobe is an easy sentimental gift. It's great for someone who loves that special homemade touch. The  items you'll need are: 
Mason jar

Water 

Glycerin (this is optional but it makes the mixture thicker and makes the glitter float better)

Small figurine to put inside

Glitter

Sequins

Super glue or a hot glue gun 
Start by putting glue on the inside of the jar's lid and place the figurine on it. The figurine can be a small christmas tree, present, or anything that will fit. Next, fill the jar with cold water, add 1-2 teaspoons of glitter, and stir. Add a few drops of glycerin and screw the lid back on the jar. You can glue the jar shut if you're worried about it spilling, but other than that you're all done. This magical nostalgic gift is super simple and special. 
Hot Chocolate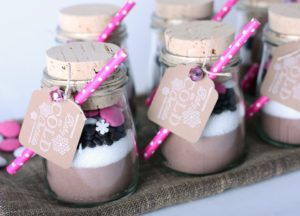 Next on the list is homemade hot chocolate mix. You will only need 3 ingredients for this delicious treat.
2 cups of confectioners' sugar

1 cup unsweetened cocoa powder

2 cups powdered milk or instant nonfat dry milk
In a large bowl, sift the confectioners sugar, then the cocoa, to get rid of any lumps. Next, stir in the powdered milk and whisk well until everything is combined. Finally, add mini marshmallows to the container, if desired. As a guideline, ½ cup of coca mix and ½ cup hot water is the right amount to enjoy in one serving. This can be kept in the pantry for 6 months.  If you don't want to make the mix yourself, another option is to put the already made powder mix into a cute jar with some add-ins such as chocolate chips, sprinkles, and other candy. 
All five of these special homemade gifts are perfect for this holiday season.