Construction starts on new combined elementary school
On Thursday, a ceremonial groundbreaking for Gloucester's newest elementary school took place. In attendance were members of the school's building committee, the mayor's office, the Massachusetts School Building Authority (MSBA), and current third-grade students and teachers.
Voters approved the plan through a ballot initiative during last year's elections. The school, which will combine the student bodies of both East Gloucester and Veterans' elementary schools, is expected to be completed in September 2023.
While it is currently unnamed, the new elementary school will occupy the same footprint as the now-demolished Veterans' Elementary School.
"It's going to be in the same place, but bigger and better," said Mayor Sefatia Romeo Theken. "The building is the building. The infrastructure is the infrastructure. But if the teachers don't have the spaces to teach… then we're failing."
Superintendent of Schools Ben Lummis, who spoke at the event, mentioned new desks and paint as among the improved facilities of the new school.
School Committee member Kathleen Clancy announced that construction will be filmed as a time-lapse, allowing people to watch the new building rise from the ground after its completion. Additionally, she expressed to the third-graders that the new school will help them learn once it is finished.
"This new school will give your teachers the right tools to get the job done and provide you with the best education possible," she said. 
Jim MacDonald, president of the MSBA, agreed with the sentiment. The MSBA contributed over $24 million to the school's construction, or around 59 percent of its estimated costs.
"You're gonna see furniture you never knew existed. You're gonna see technology that you never knew existed," MacDonald said.
Matt LeBlanc, president of the Gloucester City Council, was pleased to see Gloucester build a new school after watching other nearby cities do the same. 
"Ten years ago when I got elected… I remember going to [West Parish Elementary School's] groundbreaking," he said. "I drive around these other towns… I see Manchester and Essex and Beverly and Ipswich building new schools. To see all these other school buildings go up… it's great to catch up in the school building process"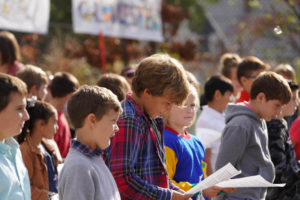 Gloucester native Bruce Tarr, who represents the city in the Massachusetts Senate, also delivered remarks at the ceremony.
"[State representative Margaret-Ann Ferrante and I] are so very proud of the education we got in the Gloucester Public Schools," he said. "This city and this community has a vision for its future, and cares about its future and cares about you. And that's what this school represents," Tarr told the third-graders.
After the ceremony's final speeches, the third grade children from both schools exchanged letters introducing themselves to each other. When the new building is complete, current third-graders will be its oldest students.
The third-grade classes closed out the event by joining together to sing the White Stripes' "We Are Gonna Be Friends."
East Gloucester music teacher Megan Speidel, who led the singing, said that "it's good being new to the community and already seeing unity."

Leave a Comment