Thrifting: the newest fashion craze explained
As online shopping allows us to buy cheap and trendy clothes with the click of a button, shopping for affordable and sustainably-made fashion is getting harder and harder. Popular sites like Shein and AliExpress sell sweatshop-made clothes for next to nothing, and while they aren't durable, that's what many can afford. So how do you find sustainable, cheap clothing nowadays that won't break your wallet?
One word: thrifting.
Thrift stores are clothing stores that get all their merchandise from public donations. Typically donations are open to the public, and the majority of places will accept most items in wearable condition. 
Thrifting is an eco-friendly alternative to shopping firsthand because it recycles old clothes. "What I like about thrifting is that you can get clothes in thrift stores for the same price as you'd get them on somewhere like Shein, without supporting places that use child labor and unethical practices," GHS sophomore Thea Cunningham said. 
The main advantage of thrifting is that because all of the clothes are donated, they are very inexpensive. This makes thrifting ideal for those who don't have much extra cash to spend on clothes. Thrift stores exist online too, on sites like thredUP and Depop. Some popular in-person stores include Goodwill, Savers, Second Glance, local independent stores, etc.
Apps like Tiktok, Instagram, and Pinterest have helped popularize the craze, with people posting videos and pictures of their "hauls". Even a quick google search for "thrifted outfits" will give you pictures of teens in flannels and retro-style corduroy pants standing against buildings, links to mood boards, and images from countless social media profiles of thrifted finds. 
This new popularization of thrifting has apparently been good for business, according to Susan Zwart, the manager of a thrift store called Second Glance.  
"It's awesome!" Zwart said. "We love to see young people shopping and donate. Since we've opened again after COVID, with limited staff and hours, we're doing great! We're seeing [teens] purchasing clothes, and interestingly also board games and puzzles, probably due to the sustainable nature of the clothing."
With teenagers becoming more environmentally conscious, the thrifting craze has become a popular way to not only shop in a way that is better for our planet, but that is more affordable and easily accessible for everyone. 
"I'm vegan, and one of the definitions of veganism is animal welfare." GHS senior Darcy Muller said about the appeal of thrifting. "So I also started to look into the environmental side of veganism and do as much as I can to be sustainable." 
Muller also has some advice on how to use social media to your advantage while thrifting. "If you're young and know modern fashion, look at Pinterest for idea boards. When you go to thrift… having a creative mind and ideas beforehand will help with finding good outfits." 
If you are thrifting for purely fashion purposes, and not just using it as a source for affordable clothes, keep in mind that thrift stores are first and foremost a resource for those who have little money to spare on clothing, and should be treated as such. 
"It pisses me off, as someone who has at times depended on hand-me-downs and the thrift store, to see people taking advantage of it for their own fashion whims," GHS Senior Ais Cook said. "Thrift stores don't exist for you to be fashionable, they exist to provide people who can't afford clothes with clothes." 
Thrifting is a great option for sustainable clothes shopping, as long as you are respectful of the fact that for some, thrifting is the only good way to get clothes.
So, what are some things you should know before you shop? Well, here are a few quick tips to keep in mind:
You're not always going to find something.

Factors like the season, location, and even specific store will influence what's available on the racks. You may not always find something perfect! No worries, there are plenty of thrift stores online and offline to try.

Know your size going in.

Many thrift stores have limited or no dressing rooms, and COVID protocols haven't helped. Instead of just buying those jeans and hoping they'll fit, measure yourself first and go in prepared. Avoid buying "oversized" items if you're a smaller size. This takes away clothes from plus-size shoppers who often have a harder time finding places that sell good, inexpensive clothes in their size.

Don't buy to resell.

Sites like Depop will allow you to sell your clothes online, and a trend has arisen of people buying in huge loads from thrift stores and then reselling at a high markup. Be conscious of the fact that some people rely on thrift stores for affordable clothing, and that reselling often drives the price of thrifted clothes up. 

Give back what you take.

Since thrift stores are donation based, it's a good practice to bring a few items to donate when you go, if you can afford to. This ensures not only that your closet doesn't get too cluttered, but that the store is continuously well stocked for the next customers!

Wash your clothes after purchasing. THIS IS IMPORTANT. Most major thrift stores, Goodwill, Savers, etc, don't wash their donations before putting them out on the racks. Some stores will spray their items with perfumes to mask any unsavory smells, but don't let that fool you. Throw those shirts in the washing machine before you put them on, just to be safe.
Leave a Comment
About the Contributor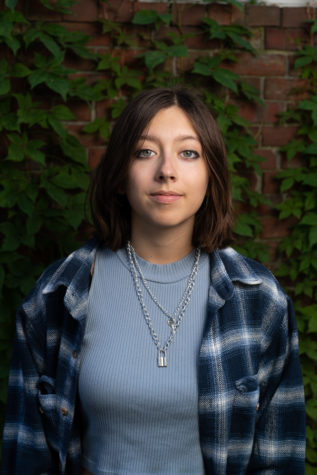 AURELIA HARRISON, Staff Writer
Aurelia is in their sophomore year at GHS, and this is their first year writing for the Gillnetter. They are a member of the school drama club, and enjoy...