Book club with Ella Grossi
Welcome again to this month's book club! This month will be featuring fantasy, fiction, and historical fiction. These are this month's hot picks:
Siege and Storm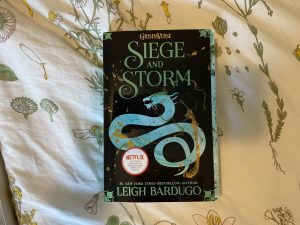 As promised, I have continued on with the Shadow and Bone trilogy written by Leigh Bardugo. Siege and Storm continues with main characters such as Alina Starkov and Mal Oretsev. The two search for the second amplifier that comes from the Sea Whip. The two go on countless adventures and gain and lose friends along the way. The end leaves off with endless questions and theories to unravel which has led me to read the third book eagerly.
Though I can't share much of the plot due to spoiling those who haven't read the first novel, I would like to say that this trilogy does not disappoint. I have never been a fantasy reader but after reading these two novels, I can't stop. I recommend reading this series if you would like to start immigrating into fantasy type novels. 
Rating: 9/10
I'm Not Dying With You Tonight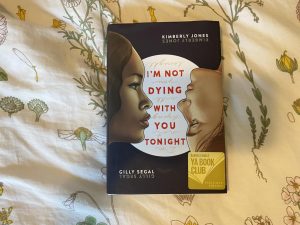 I'm Not Dying With You Tonight, written by Gilly Segal, is seen through the perspectives of two young girls. One white and one black. The two help each other survive through a violent race riot taking place at their schools. The both of them take on subjects such as racial inequality, racial misunderstandings, financial problems, and much more.  As the two grow together throughout the troubles in their cities, they both educate themselves on their upcomings and learn from each other. 
Amazing, terrific, and spectacular book. I can't even begin to explain how wonderful reading this was. The two perspectives and personalities really brought this book together. Reading this opened my eyes to how everyone has their own troubles that we don't see from just the outside. Wonderful book to teach young adults, or anyone for that matter, how we shouldn't judge people purely from their appearance, and how to be kind to everyone around us.
Rating: 9/10
Salt to the Sea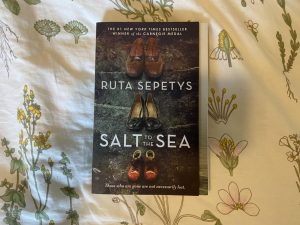 Salt to the Sea, written by Ruta Sepetys, takes place during the Second World War in East Prussia with each character trying to escape their home countries. The four perspectives that are in the novel is Emilia, a teenage Polish orphan Florian who is a restoration artist, Joana who is a Lithuanian nurse, and Alfred who is a Nazi. The four of them go through plenty of internal and external conflicts throughout this wretched time period.
Needless to say, I plan on reading this book many more times. I was flipping the pages as fast as I could and the story only got better. The different thought processes made this book so fascinating. Each character has to go through hardships and at some points, help each other even when they are not meant not to. This is my number one favorite book and I recommend everyone reads this at least once. 
Rating: 10/10