Fishermen cruise past outnumbered Sachems in win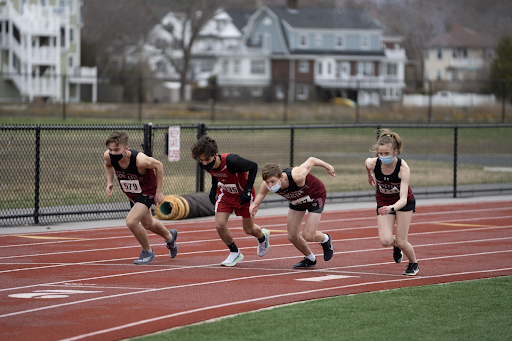 The first home meet for GHS Track and Field resulted in a dominant victory over Saugus. Both boys and girls teams showed their dominance from start to finish, with a big win in the first meet Gloucester has hosted in 2 years. 
The GHS boys outnumbered and outperformed the Sachems in a 62-18 blowout. In the 55 meter hurdles, Gloucester swept with Michael Moffet in first, Kai DeGuzman in second, and Trevor Fulford in third. 
The boys team also took the top 2 places in the 300m dash, 600m, mile, and the 2 mile. In the 300m, Captain Andrew Coelho led the way with Aidan Almeida taking second place. Tommy Elliott and Daniel Hafey had a photo finish in the 600m with Elliott getting the slight edge for first place.
In the mile, Nick Poulin cruised through the finish line for the win with Max Littman behind him. Captain Owen Hardy took first place in the 2 mile with Michael Francis in second place. Sophomore Deston Cauthers won the 1000m as Captain Kyle Clifford got third. 
On the other side, the girls picked up an impressive 38-18 win. In the 55 meter hurdles, Bailee Militello was the lone finisher in first. Captain Natalie Aiello took first in the 55m dash and Darcy Muller and Ella Young took 1 and 2 in the 300m dash. 
Muller also took first in the shotput and Young also took first in the high jump. In the 1000m, Freshman Faith Castellucci also took place as the girls team took their first win. 
The Gloucester boys have a chance at the NEC South title for the first time in years and are now 2-0 against other NEC South teams.
Although their next meet will take place on Thursday in Winthrop at 4 pm as they look to continue this success. On Saturday they will host Swampscott, another NEC Title contender, at Newell Stadium at 10 am.