Fishermen football wins three in a row
On Friday, March 26th, the Gloucester High football team pulled off an impressive 44-26 win against Tech Boston Academy. With the win, the Gloucester team has improved their record to 3-0.
This game was put together last-minute, as Gloucester was originally to play Swampscott High but due to Covid-19 complications, the game with Swampscott was canceled. This last-minute change did not stop the team as they started the game with a bang. In the first 26 seconds of the game, sophomore Frank DeSisto took the ball 55 yds for a touchdown. This energy did not end there with junior Aidan Cornetta scoring the second touchdown of the game, followed by a 2 point conversion by sophomore Jaden Deltorchio. 
Entering the second quarter with a score of 14-6, sophomore Caleb DeCoste pounded through the Tech Boston defense for a touchdown, making the score 20-6 at halftime.
Midway through the third quarter, DiSisto drove the ball into the endzone. Then senior quarterback Brett Giapo passes to junior Robbie Schuster in good play for the 2 point conversion, making the score at 28-6. Schuster had another nice play with an over-the-shoulder interception and 10 yd return. 
The great third quarter continued for Gloucester with DeCoste following the strong blocking of his offensive line, forced his way down the middle into the endzone for their fifth touchdown of the night. Cornetta went on to score the 2 point conversion.
Tech Boston came into the fourth quarter with some resilience by scoring 3 touchdowns. Gloucester added one more touchdown to the scoreboard made by freshman John Gucciardi and a 2 point conversion up the middle by senior Jeff Allen. The game finished with Gloucester winning 44-26.
The team had an excellent game. Gloucester will be looking for another win next Saturday against rival Beverly High School at 1:00 pm.
About the Writer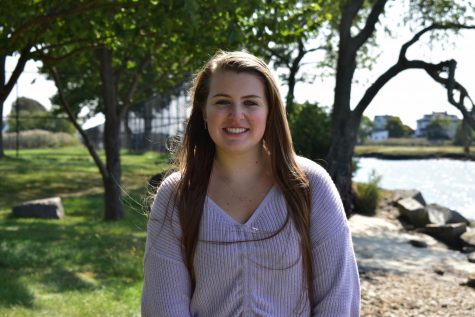 ANNIKA NYBORG, Staff Writer


Annika Nyborg is in her second year at GHS, and her first year staff writer for The Gillnetter . When Annika is not working on the paper, she...